How audio, voice-activated technology is changing relationships with audiences
Watch video of the podcasts, virtual assistants and audio panel discussion from ISOJ 2018.
An all-women panel closed out the 19th International Symposium on Online Journalism (ISOJ) with insights on the future and potential of audio storytelling.
Introduced by Kathleen Kingsbury, deputy editorial page editor for The New York Times, the session titled "From podcasts to Alexa, Hey Google and Siri, journalism is raising the voice" highlighted the considerations attending organizations made regarding content and capacity when working with audio.
Tamar Charney is the managing editor of NPR One, a mobile app and streaming service providing personalized podcast selection and localized newscasts to listeners outside of terrestrial radio.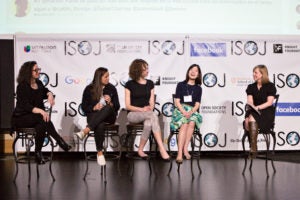 When first developing the product, the team at National Public Radio (NPR) asked the question: Is the problem that people don't relate to storytelling or is it the format?
Recalling a "generational proxy war" between podcasts and traditional radio, Charney says that we now live at a time when those two worlds are converging.
The platform matters less to listeners when content is readily accessible.
Smart speakers, namely Google Home and Amazon Echo devices, are an exciting platform for reaching new audiences. These voice assistance users typically listen at home while multitasking – not on the commute. Plus, they expect the most updated, quality news updates.
Anne Li, interactive audio producer at the Washington Post, works to bring early morning news briefings directly to consumers.
To prepare for the future, Li says it's important to not just think of smart speakers as "another place to throw your audio content." Listeners appreciate well-produced news and information which fit into their habits and values. On the other end, developers also need to keep teaching listeners how to use their evolving devices.
Three flash briefing options on Amazon and Google devices (The Daily 202's Big Idea, Retropod and the Capital Weather Gang) are currently available from the Washington Post, along with Amazon Echo-specific features called Alexa Skills which help integrate voice-activated information into everyday life.
A never-released Alexa Skill aimed to help users with a real life skill – cooking – taught the team at the Washington Post a few key lessons. First, it's hard to retain information like measurements, lists and instructions orally. More importantly, an normally social task like cooking with a voice assistant "killed human interaction."
Finding and developing human interaction can also be the key to the business side of audio, especially with podcasts.
Podcasting is the "most exciting space because it's still largely unformed," says Caitlin Thompson, U.S. director of content of the podcast platform Acast.
For Thompson, "the future is niche." Carving a place into specific interests, whether they be knitting or politics, creates opportunities for podcast producers.
Thompson says it's important to cultivate listener loyalty and a genuine quality that "makes you reach for your wallet because you value that relationship so much."
Strong followings and strategic distribution with networks can open up doors for deciding: what's your ideal revenue stream?
Whether the podcast is supported through ads, accessible through a premium membership, crowdfunded, or part of a larger advertising buy, original creators can choose their destiny now more than ever.
Jillian Weinberger, senior producer for audio Vox Media and Vox.com, says audio as a medium has long been taken for granted. At Vox, she says, the medium works to serve the story.
Framing the heart of a podcast is key to expanding a project's long-term reach and connecting with an audience who wants to know exactly "what they're getting when they hit 'download' on your show."
One example is "The Impact" podcast's thesis statement: "how policy affects real lives." This can apply to healthcare – the theme for the first season for first season – and leaves room for the content to mature for more complex, targeted topics in a following season.
Growing a podcast can be hard work, but mutual respect within the production team and an earnest effort to a relationship with the audience can go a long way, says Weinberger.
For all panelists, encouraging listeners and the larger media landscape to recognize audio's potential is key.
Instead of competing, audio would benefit from being a collaborative and creative space, when Netflix, magazines and other mediums are also working to captivate audience attention.