New Media Faces Intricate Challenges In Route to Fulfilling Global Coverage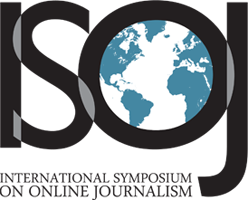 The International Symposium on Online Journalism's keynote speaker, Guy Berger, Professor and Head of the School of Journalism and Media Studies at Rhodes University in South Africa discussed why the Internet is not a sufficient global medium; not just yet anyway.

"The web serves mostly as a supplement to other news sources rather than being the primary source," Berger said.
Recently listed as one of the "Top 50 Names to Know in New Media", Berger focuses his time and energy into the development of the Internet in Africa. His latest project, the Africa Media Matrix, has constructed a technological facility that provides African journalists the adequate tools and research required to overcome the challenges that accompany the democratization and globalization of their continent.
He is particularly interested in how the upcoming presidential election in Nigeria will be publicized. From his trips to Lagos, Berger has found the conditions of the journalism schools to be in a severely deficient state incapable of effectively covering important political events.
"One of the few j-schools with sponsorship is supported by a local dairy product. Not even the director had his own computer. There is no running water in the bathroom and this is not unusual for j-schools in Nigeria." Cyber cafes are quite expensive due to the lack of technological implementation, Berger added.
He stressed that proper journalism is a key ingredient to ensure that democracy thrives.
"There's a quantity problem in the way international news gets represented and there's also a qualitative problem," said Berger. "Africa is all bad news. The good news often goes uncovered."
Berger then noted the Internet's capabilities to compensate for the poor coverage of international affairs. From an outsider's perspective, however, he has observed how America's international coverage has become hyperlocalized.
"It is mainly non-US users who experience the international info potential of the Internet. A country at war has the media culture that is promoting hyperlocalism," Berger said.
By looking at the political economy of the web it is evident who the importer is and who is the exporter. Berger acknowledged that North America and Western Europe manufacture 90% of the domain names on the Internet while consisting of only 66% of the readership.
With three-quarters of the traffic to Google, Yahoo and Microsoft coming from outside the United States, it truly shows the global impact of the Internet, he said.
Berger clarified that until the exporters begin to reflect on the globalization of its product, the Internet will not accomplish its true potential as a global medium.
ISOJ 2007: Getting the Most Global Medium to Live Up to its Global Premise (Keynote), from Knight Center on Vimeo.