Revolution: Two Meanings and Their Implications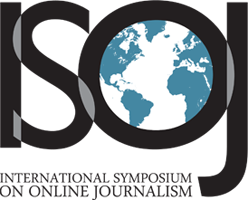 Revolution is a word with two different, yet connected meanings. A revolution can be described as a full circle about an axis; it also means a change from the old. This was the topic of Jorge Sanhueza-Lyon's Masters thesis as he looked at the Castro Revolution in Cuba, and how Cuban lifestyles have come full-circle from years before.
It also correlates to the topic of online journalism. A revolution is happening — a revolution in the sense of a change and reform of a new medium, but also a return to the basic principles and techniques originally implemented by the first journalists.
Sanhueza-Lyon sat at the 8th annual International Symposium on Online Journalism Saturday morning stage left, with three other panelists to his right. He currently works as a video journalist for Statesman.com,of Austin, Texas. His panel covered the transformation of story-telling techniques and how they are changing the way news is produced — the revolution of media. Revolutions are important because they allow for change, Sanhueza-Lyon said.
"The idea is to be pushing to not be complacent," Sanhueza-Lyon said. "We should have a fear of complacency. Complacency is what starts revolutions."
With a background in freelance photography, Sanhueza-Lyon made the switch to video because he found he wanted to let his pictures have voices and allow the audience to feel closer to the action. He displayed some samples of his previous stories including the "Air Guitar 101" competition, sledding during the ice storm in January, a local fire, and the South-by-Southwest music, film, and interactive media festival. His stories are a mix of spot news and feature stories.
Sanhueza-Lyon enjoys the freedom his job provides, and said he wants the media to continue creating strong stories. With multimedia journalism having no boundaries, online journalists have created many story forms. This allows more options for story-telling.
In his presentation, he also discussed the need for cooperation between journalists. He stressed that he is a journalist as well, not just a cameraman.
"We're all a team. I'm not your Sherpa, or a camera monkey," he said. "We need to work together to tell the bigger story, work with the other media so we can tell the whole story."
The main point Sanhueza-Lyon stressed was using all media forms cohesively to create the optimal media experience.
"When we tease a story in our story, it's seen as additional, as a bonus, like outtakes," Sanhueza-Lyon said. "People need to see that if you don't go to the website, you're missing something. And we should all be like that, that the online story is just as important as the text story."
Sanhueza-Lyon also articulated the importance of telling stories with the audience in mind. Media now appears to have strayed away from what the public wants and more so what the stockholders of media companies want, he said. Journalists should return to the idea of writing for the people- a full-circle to the beginning, he suggested. Finally, journalists need to create a balance of what people want to know, and what they need to know, he said.
"This career is changing exponentially. It is super-exciting because there is so much potential. We need to make sure we think innovatively. It needs to be dynamic, vibrant, and changing. We need to take chances. And stay away from complacency. Don't be afraid of change."
ISOJ 2007: The Transformation of Storytelling Techniques, from Knight Center on Vimeo.