News Coverage: Past, Present, and Future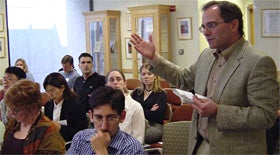 The nature of online journalism has changed drastically since its inception in the early 1990s, but that evolution is nowhere near complete.
Events such as the Iraqi War, and even the World Cup, are covered far differently today than they would have been five years ago. Similar events will be covered differently in the near future than they are today.
The second panel at the 6th International Symposium on Online Journalism, consisting of The New York Times on the Web's Len Apcar, the WashingtonPost.com's Jim Brady, and Mary Zerafa of LaOpinion.com, discussed the evolution of online journalism and examined recent news industry trends. Originally, because of a prevailing fear of compromising the print edition, there was widespread hesitancy to move toward real-time web editions of the newspaper. However, times have shown that online editions supplement print editions and that the importance of breaking stories in real time is a paramount concern.
"It's been a long haul," Apcar said. "The culture is to hold back and preserve the articles and features of the morning paper."
A focus of the panel was the improvement in relationship between newspapers' online and print staffs.
In the early days of the online papers reporters had to be begged to provide content for the web, Brady said. Today, reporters take initiative and appreciate the ability to reach a wider audience, see their own stories when they are out of town, and impact readers with current news.
Stories by reporters in Iraq are read online 14-16 hours before they appear in morning newspapers.
"Your success is only as good as your relationship with the paper that provides you with 90 percent of your content," Brady said.
Zerafa's presence on the panel provided an interesting contrast to two of the nation's largest publications. LaOpinion.com works on a much smaller budget and targets a more narrow audience – the 14 million Spanish-speaking Americans that have Internet access.
Rather than focusing on hard and breaking news, LaOpinion.com has found it more beneficial to build itself around areas of passion, such as entertainment and sports.
"When the World Cup was in Korea – it was there for four months – we basically didn't sleep," Zerafa said. "I have to say, we had one of the best World Cup pages out there. It was very popular."
The panel concluded with a discussion of the future of online news. The natural progression of newspapers would dictate online newspapers eventually becoming separate entities from the print paper, with its own staff. The panelists, however, didn't feel as if this trend would take hold in America.
Instead, the panelists expect a change toward more interactivity. Blogs, and even instances of citizen journalism, are the wave of the future that the panelists are looking forward to, though their parent companies aren't as quick to embrace the changes.
"When you are working with companies that have made their mark in a totally different medium, it takes some time [to change]," Brady said. But when it comes to the future, "we feel pretty comfortable with it."
ISOJ 2005: Real Time News, from Knight Center on Vimeo.