NewsU director discusses importance of games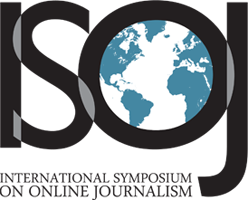 From a copyeditor at the Chicago Tribune to the executive director of NewsU.org, Howard Finberg took a "long and tricky path."
Sitting down in a courtyard of the ACES after he spoke as a part of the News Games panel at the ninth annual International Symposium on Online Journalism, Finberg explained the intricacies of this path, his favorite games at NewsU and even some interesting Nintendo Wii uses.
Along Finberg's path, he grew from a copy editor to the graphics editor at the Chicago Tribune. That led to a management position in San Francisco that integrated graphics and design and technology.
It was here he started to get interested in computers. He took a job in Arizona and started working on a pagination project. From here, the Poynter Institute consulted him to write a report about training and journalism, especially e-training in journalism.
"You know consultants write big reports, and I wrote a big report," Finberg said, raising his fingers to eye level and measuring his report at about an inch thick. "I sent it to the Knight Foundation. They liked it and funded it."
Because he grew up in a time when games were not present, they were not embedded into his media habits, Finberg said.
"The interesting thing is that I'm not a big gamer," he said. "But I've always appreciated the opportunities games present."
Although he's not a gamer, he does have a Nintendo Wii.
"Have you ever tried Wii news?" said Finberg, referring to the application available by hooking the console up to wireless Internet and receiving news from around the world.
Makes sense — a non-gamer journalist using a game system for news.
This is the idea behind the Poynter Institute's NewsU.org — taking a medium that is not generally thought of as an educational tool and making it one. Using a combination of games, scenario branching simulations and other types of games, Finberg and the crew at NewsU are inviting journalists and non-journalists alike to learn more about journalism.
Finberg had a hard time picking a favorite course or game at NewsU.
"That's like asking a parent if he has a favorite child," Finberg said.
He said he doesn't have a specific favorite, but prefers the Hospital Beat Reporting simulation and the general Be A Reporter games.
"I like various aspects of different ones," Finberg said. "I like the smaller games for the teaching aspects, and I'm fascinated by the branching scenarios games."
NewsU is a groundbreaking Web site that can help journalists become better writers, better reporters and better Internet users, Finberg said.
"One message: Games are really important," Finberg said as he finished up the panel, succinctly echoing the other panelists.