Panelists: Games are important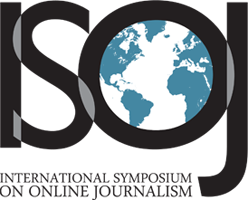 Games can be the key to the future of journalism, said the four panelists at a Saturday morning panel on news games at the International Symposium on Online Journalism.
Howard Finberg, the executive director of the Poynter Institute's NewsU.org, said that games help audiences better retain the information presented.
"A retention rate of 20 percent is the general norm for reading," Finberg said. "If I show you something on the screen and talk to you about it, you'll remember 50 percent. It increases to 70 to 80 percent when you're actually doing something, and it's not because its just fun, it's because you're engaging your brain in a different respect."
'Games' is a word that can inspire fear, said Suzanne Seggerman, the president and co-founder of Games For Change.
Looking back, Seggerman connected games to other media that were met with resistance including the written word, books, novels, film and the Internet.
"Darfur is Dying" is a game that Seggerman highlighted that requires the user to help save Darfur.
Panelist Ian Bogost, an associate professor at the Georgia Institute of Technology and founding partner of Persuasive Games, mentioned a game that his company developed called "Oil God."
In the game, players use the hand of God to make oil prices reach a certain level by cutting off supplies and causing havoc, Bogost said.
Using games such as these can help change the idea of games and help shape the future of journalism, the panelists said.
Paige West, the interactivity editor at MSNBC.com, talked about subjects that can be boring in text, but interesting in an interactive media such as games.
"That's what a good news game is – a simulation of an environment or a process that lets you experience something that you might not have experienced otherwise," West said.
"It's not something that is particularly interesting in text, but if you let somebody control the variables, it's extremely engaging."
With the swirls of a media crisis and the death of the newspaper that surround journalists, the media needs to engage its audience, the panelists said.
"The best games are the ones that are really focused," Finberg said. "I think games can play a really big role at news sites."