Pandemic opens opportunities for small digital media in Latin America
This panel was a part of the 13th Ibero-American Colloquium on Digital Journalism that was completely online on July 25, 2020. See this and other panels of that day here.
The COVID-19 pandemic has brought massive layoffs and staff cuts to the journalism industry for many journalists in Latin American countries and the rest of the world. However, to some small digital media from the region it has brought business opportunities and editorial collaborations that have contributed to their development and increase in audience.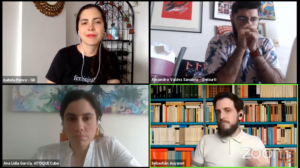 The panel "Cuando la pandemia impulsa el cambio: tres experiencias de crecimiento en medios en América Latina" presented the cases of the journalism sites GK from Ecuador, El Toque from Cuba and El Surti from Paraguay.
Due to the intensity in which the pandemic developed in Ecuador, with a high number of deaths in Guayaquil, the site GK directed all of its coverage to explain what was happening, said Isabela Ponce, director and cofounder of the site.
According to Ponce, their three main themes — human rights with a focus on gender, the environment and transparency– were focused on the COVID-19's impacts on the country.
In the context of Ecuador, the pandemic added to the economic, political and social crisis that the country was already undergoing since the national strike in October 2019.
"When the pandemic came, for us it was a the opportunity to say, what should we do? Obviously we have a godmother called MDIF, and we received a lot of timely advice about the strategies that we could take, like, from the business side, how to think about how to generate liquid assets," Ponce said.
GK already had a diversified business model, Ponce said, with a content study service, training, international strategic alliances and grants. In addition, they recently created the Tienda- a virtual sales section on their site where they offer decorative items; an audiovisual laboratory; and advertising spaces. They are also planning to introduce a membership business model.
"Since the content study we were able to reinvent ourselves and prepare some services and specific products for the pandemic which turned out very well, in other words, like a good example of what we could do and which resulted and continues to be [very well] … We were able to prepare ourselves for the crisis that came," Pone said.
Traffic to the GK site increased 100%, compared to the first months of this year, Ponce said. "Our goal is to increase it by 300 percent. This crisis is a grand opportunity. The audience has given us better themes," she pointed out.
In Cuba, the media sites El Toque and Periodismo de Barrio decided to make an editorial and commercial alliance to overcome the difficulties that already existed on the island and which were exacerbated by the pandemic.
Ana Lidia García, a journalist from El Toque, said that the island is currently experiencing a spring of new independent media, despite the fact that they are not legally recognized by the government as press due to their independent status. They are also constantly criminalized and threatened, and have no access to official sources.
"When the crisis arrives and the first case of coronavirus [was identified] in Cuba on March 11, the challenge was not only facing the pandemic as a sanitary crisis but also the issues of access to information, access to sources and the economic challenge that this would mean," García said.
From that moment, El Toque and Periodismo de Barrio decided to unite to create a collaborative information service, joining their budgets and teams of reporters. "It was the best thing that could have happened in that moment," García said.
This alliance and their results made them think even more in the possibility of introducing a membership business model.
In regard to their coverage, they concentrated on two main questions: verifying data and giving context to that information, and developing actions for audience engagement.
Thanks to their increasing access to the internet that the island has had in the last years, and a higher number of cuban users on social media, both digital outlets were able to work in collaboration with other independent outlets in Cuba and in the region, García said. LatamChequea, an alliance of journalists who verify news, also joined this fact-checking effort.
They made a bot that verified news via WhatsApp and Telegram, which in turn strengthened their web development, with the goal to in the future offer services in this format, said García.
According to García, although Cuba has not experienced a health crisis, it has experienced a food crisis. "Our job was to provide information to audiences beyond official news," she added. To do this, García said, they diversified formats and made podcasts about how people on the island were living through the pandemic, cooking videos with ingredients found in the markets, and comic strips to add a touch of humor to the problems being faced during the pandemic .
Both García and Ponce, from GK, highlighted the importance of having clear processes and workflows, defined roles, transparency within the team and a lot of commitment and collaboration from everyone on the team.
In the case of El Surti, from Paraguay, the first thing they did when the pandemic got to the country was to give their audience verified information about the situation. According to Alejandro Valdez Sanabria, co-founder of the Paraguayan site, to do this they created a podcast series to be disseminated exclusively via WhatsApp, because it was the app through which the largest amount of false information about the pandemic was shared.
Valdez also highlighted the importance of having deeper regional COVID-19 coverage.
According to Valdez, from this juncture, El Surti is learning to become an organization which is heading toward institutional learning.
"This moment of crisis was a kind of catalyst for other crises. The economy was already completely destroyed [in Paraguay]," said Valdez. "We, the small [media outlets] who come from crisis to crisis, are very well prepared for this crisis. It is an evolutionary matter. The quarantine deepened the need and ability to adapt to new circumstances," he said.