Reflections:Ex-NPR CEO Vivian Schiller Delivers Keynote Address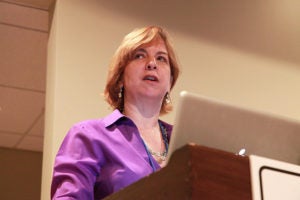 Former online editor of the New York Times and ex-CEO and President of National Public Radio Vivian Schiller delivered they keynote address that kicked off the 12th International Symposium on Online Journalism.
The symposium, which ran from April 1-2, hosted an array of journalists from all over the world at the AT&T Executive Education and Conference Center in Austin, Texas.
Glenn Frankel, the director of the school of journalism at the University of Texas, briefly introduced Schiller. Frankel called NPR a "disgrace" for firing and publicly humiliating Schiller.
Schiller delivered her address, ironically titled, "Reasons to be Cheerful." Schiller had positive words concerning the direction of journalism and media.
Concerning her recent departure from NPR, Schiller joked, ""I never even thought for a second I wouldn't come. Now I actually have more time to be here."
Schiller discussed the state of journalism and emphasized the importance of local news and radio stations. Schiller reiterated that local news is place for innovation and has the potential for tremendous growth.
Schiller also touched on the paywall recently enacted by the New York Times. Schiller stated that people will always pay for things they can get for free, and used the success of iTunes in the age of music piracy.
"There's no question that free will always attract an audience, we must continue to be in a relentless state of constant experimentation, to test and learn, not be afraid to fail, fail fast," said Schiller.
Schiller outlined her seven reasons to remain positive and urged members of the journalism community to remain positive.
"So many forces that are really challenging the newspaper industry. With large newsroom, brand recognition, and readership there's still time to turn it around. It takes fortitude and partnership."
ISOJ 2011: Vivian Schiller (Keynote), from Knight Center on Vimeo.