REPORTR.NET: Christian Science Monitor grapples with tensions as web-only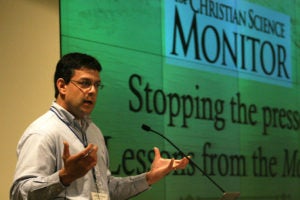 The research presented at ISOJ by Jonathan Groves, Drury University and Carrie Brown, University of Memphis, looked at the Christian Science Monitor's transition from print to web.
For the paper, the researchers spent three weeks in the newsroom, watching how journalists worked and talking to them about journalism.
The Monitor started in 1908 as a daily newspaper distributed by mail and switched to web-only daily in March 2009, with a print daily.
Grove read a quote from a journalist lamenting that management was only interested in traffic.
The Monitor had 9.5 million page views in December 2009 and reached its goal of 25 million page views by July 2010 with an editor who pushed journalists to write two stories a day and do anything to attract traffic.
With a new editor, traffic leveled out at 19.4 m page views and 8.8 million unique users by January 2011.
The researchers found a tension between the success of page views and the Monitor ideal of providing solutions-based journalism.
At core of strategy to boost traffic was more frequent updates, search engine optimization, monitoring Google trends to identify topics and use social media to reach new audiences.
ISOJ 2011: Jonathan Groves, "Stopping the presses: Lessons from the Monitor", from Knight Center on Vimeo.