REPORTR.NET: Lessons on newspaper paywalls from Mexico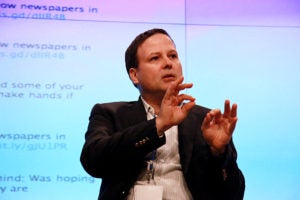 In the session on paywalls at the ISOJ, Jorge Meléndez, vice president for new media, Grupo Reforma (Mexico), explained how the newspapers have had paywalls since 2002.
The newspaper sites were free for the first two years. But they realized there was a very small online advertising market so the group just did it. Part of this involved an active strategy to convert newspaper subscribers online.
The impact of the paywall was a 35% drop in traffic. But Meléndez said they stopped minor circulation declines.
Access to all of the the news sites is free for newspaper subscribers. The prince for an online subscription is 80% of a newspaper subscription, as a way of encouraging readers to take the newspaper.
Meléndez explained there is some free content, such as the main page and emailed links.
The group provides apps for free, at least for now, said Meléndez. It has an "aggressive" app strategy, with dozens of apps for different topics.
Meléndez said broadsheet circulation is holding steady and tabloids have grown by 5% over last 8 years. Advertising and classifieds have also grown.
The group has 300,000 newspaper subscribers for all papers. 50,000 are only online subscribers. In terms of traffic, the sites have six million unique visitors, with an average of eight pages per user.
Meléndez said they learned that people do not read instructions. Online, people just expect to click. So use action verbs and clear instructions, with as few words as possible, he urged.
The reasons behind the success of paywalls is local content, argued Meléndez. And the sites have more local content than in the newspaper. "Local is very important for us," he said.
But when it came to today, he said the situation with paywalls was more difficult than in 2002. People are used to free, there is more competition and newspaper metrics are "so bad."
ISOJ 2011: Jorge Meléndez, from Knight Center on Vimeo.