'DMN' director talks about the 'Great Equalizer' of news access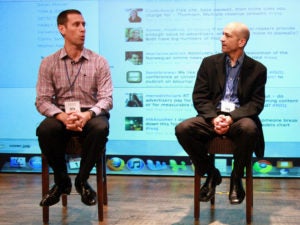 Mark Medici, Dallas Morning News' director of audience development, discussed during ISOJ the implementation of a Dallas Morning News pay option: subscriber content.
Companies cannot fail to innovate, Medici said, otherwise they fail. So the Dallas Morning News is trying to innovate by empowering and understanding their consumers.
Medici said the web time line has trended toward a platform evolution. The 1990s, he said, were about scale, the 2000s-2005s were about searching and linking, and 2006-2010 was about web 2.0.
The current time frame is the "great equalizer"of platforms, he said, adding that he recommended people check out what Sulia and Flipboard are up to. Both provide unique platforms for news access.
ISOJ 2011: Mark Medici, from Knight Center on Vimeo.