Richard Anderson defines his online success, VillageSoup.com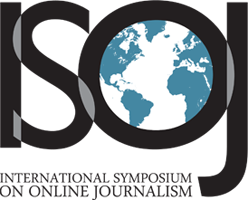 When Richard Anderson moved to Camden, Maine in the late 1990s, the former mathematics teacher and ex-textbook developer decided to pursue a new business via the Internet.
"I got intrigued with the Internet," he said during the International Symposium on Online Journalism, "I felt the opportunity to define a new category of business, like Ted Turner when he thought of cable news."
Now President and CEO of VillageSoup.com, Anderson has indeed taken full advantage of that opportunity.
The Web site, as Anderson puts it, is an 11-year experiment in the community hosting business.
"We've created a place where neighbors can grow together," he said. "They're growing by coming and learning news that affects the community, sharing ideas and events that unite the community, shopping the goods and services that sustain the community."
Working backwards, Anderson originally founded the site on the premise that the Internet could be a useful tool for local business to showcase their products. Once the advertisements were up, he searched for ways to get the community online to see them. Since the pilot communities, Maine's Knox and Waldo Counties, only had a weekly newspaper, he decided to add daily news to the Web site.
"So, the news came as a way to draw in the traffic," he said.
Today, Village Soup's 30,000 loyal readers can logon and "learn, share, shop," as the site's motto suggests. And, with the homepage organized into three distinct columns, one for each of the motto's verbs, community participation is easy.
Residents of either county can read news posted by professional journalists under the "learn" column; share opinions of news through citizen blogs and forums under the "share" column; and read up on business offers and classifieds, search business listings and visit online auctions under the "shop" column.
It's a new culture, Anderson said, that involves community hosting rather than news and information controlling.
"You're an aggregator of content. Reporters are your entertainers and audiences come to look and read; they're seekers, they're looking for solutions," he said.
A 32-person staff works daily to aggregate the content that appears on Village Soup. So far, only 350 of the 6,000 businesses in the two counties actively advertise on the site. Even so, Village Soup generated $450,000 dollars in 2007, Anderson said.
"We had to have a strategy that didn't anticipate millions of people buying," Anderson said. "You can't rely on banners and buttons because there's not enough traffic."
Instead, Anderson offers doctors, lawyers, real estate agents, restaurants and other businesses "unfettered, unfiltered" access to post as often as they want, for a low cost of about $1,000 a year, he said.
With two new daily papers in its name distributed throughout Waldo and Knox Counties, Village Soup is now developing free software that will allow others to establish an extension of the Web site for their own communities, with the help of an $885,000 grant awarded the company by the Knight Foundation.
"I want to prove that we can be the leader in defining this new category of business," Anderson said.
"We've achieved a revenue no one else has. We've achieved a user loyalty no one else has," he said. "We've disrupted a legacy."
ISOJ 2008: Engaging Communities, from Knight Center on Vimeo.