Community Building: Keeping the Audience on Your Side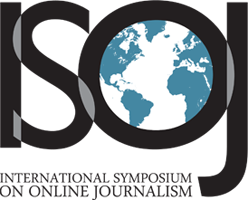 Making readers park their cars, online that is, was the main topic Friday afternoon addressed by five panelists.
"We can always get readers to do drive bys," said Jim Brady, vice president and executive editor of WashingtonPost.com. "But what can we do to actually make readers want to park their car."
The ninth annual
International Symposium on Online Journalism
presented a forum on Engaging Communities. The panelists used PowerPoints to demonstrate how their media companies are adapting in this online era. António Granado, visiting professor from Universidad Nova Lisboa, and online editor of Público newspaper in Portugal, said his online paper is experimenting with various forums in order to generate viewer input.
"One of the things that we've experienced is that we need to engage with readers. We cannot keep writing what we want to," Granado said. "When we write something that readers don't like or they don't agree to, they will write us immediately."
Granado said readers must be answered because they make up the community, which, in turn, builds the audience.
Brady discussed WashingtonPost.com's efforts to build these communities. He says a key to creating a strong audience is developing communities people cannot get anywhere else. Brady said his paper has been trying everything from discussion groups with expert panels to spinoff blogs.
"There are actually a lot of good comments in the comment threads, but they're not always easy to unearth," Brady said. He said the question is, "How do we take advantage of a sort of shared experience scenario."
Jim Lenahan, strategic development manager of Gannett Newspapers, continued the discussion of community building on the Internet. He said the new concept is throwing out the old monopoly the papers have historically had, and allowing readers to discuss and disseminate information.
"We're moving from a monologue to a dialogue," Lenahan said. "We're going niche, and we're moving that dialogue more to a polylogue or a multilogue."
Dave Panos, CEO of Pluck Social Media, said in order to engage communities, the editorial staff needs to be able to cultivate communication with viewers. He said the editorial staff must support users and the work they contribute to the website. Despite all of the changes that come with incorporating viewers in online journalism, Panos has high expectations.
"I think there are occasions where the audience leads the charge," Panos said. "I think the future for the online newspaper business is actually quite bright."
Mario Tascón, content director for Prisacom/El Pais in Spain, said this future is driven by modernization. He said although the old brands, such as The New York Times and The Washington Post have a lot of credibility, the media's job is to understand why the viewers favor the new brands, like YouTube and Google. He said change is an integral part of the online world.
"The only recommendation that we can make for you, is (to) innovate, innovate, innovate," Tascón said.
Georgia Popplewell, managing director of GlobalVoicesOnline.org, talked about taking audience input to the next level. The non-profit organization selects newsworthy blogs from around the world and summarizes them to bring citizen journalism to the forefront of the online sphere.
"We've taken what we think is a huge step in…trying to reform global media," Popplewell said.
Although Popplewell said her struggle is funding, there is strength in her website's slogan that all the panelists share – "The world is talking. Are you listening?"
ISOJ 2008: Engaging Communities, from Knight Center on Vimeo.