Rodrigues discusses link between database journalism and democracy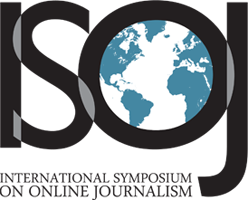 For two years, Fernando Rodrigues collected information on politicians in Brazil including a list of their personal assets and patrimony.
His collection of information was made public in 2002, and two election years later, in 2006, a million viewers flocked to the Web site Politicos do Brasil to see what the candidates' assets included.
Rodrigues, 44, is a reporter and columnist for Folha de S. Paulo and originator of politicosdobrasil.com. He discussed database journalism and interactivity between journalists and its citizens at the ninth annual International Symposium on Online Journalism. Politicos do Brasil provides readers with catalogs of information on politicians while also inviting the citizens to participate.
His fascination with politics began early in life, growing up in a military dictatorship up until his adulthood.
"For 21 years, half of my life, I was enduring this lack of democracy in my country," Rodrigues said. "As a student, I took part in demonstrations and lots of political activities."
From that point on, his interest in journalism grew. He started in the economic section of his newspaper.
"Economy and politics — one does not exist without the other," he said. "There's such a close connection between the state of economy and how politicians behave."
The Politicos do Brasil project allows journalists and citizens to compare the year a candidate began office to the year they left, to find out if their assets have increased within reason. Citizens can observe their politicians and question their actions that did not add up.
"We discovered that 2,168 Brazilian politicians were essentially not paying their taxes as they should," he said.
Aside from this onset of watchdog journalism, Rodrigues insists that Politicos serves even more objectives. The Web site is a database mash-up, which offers readers a tool and increases the newspaper's online venues.
Collecting this information is not easy. When the project began in 2000, the collection process took two years. It was collected state-by-state in the 27 states, and it was done manually because the information was only available in print.
The team included only one person — Rodrigues. The project has since grown with the latest update on the 2006 elections. It contains almost every politician — 5,000 to be exact.
After following elections here in the U.S., Rodrigues offers his knowledge of legislation regarding fundraising for presidential candidates.
In recent years these small donations, which do not have to be reported, make up nearly 35 percent of the total contributions.
"Lots of money goes un-itemized because candidates are not required to say where this money came from," he said. "I haven't seen any story mentioning this loophole in your legislation. That would be something I would write if I was covering politics in the presidential campaign in this country."
Rodrigues's focus is on his homeland, where he hopes to continue to perfect the project. He is trying to make it more user-friendly and interactive, so the readers can use the Web site to do increasingly sophisticated research as Brazil becomes more democratic.
ISOJ 2008: Multimedia and Interactivity, from Knight Center on Vimeo.