Site emphasizes cultural dialogue on international level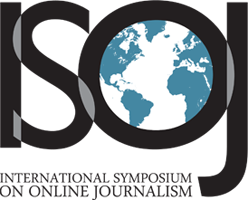 Georgia Popplewell, managing director of GlobalVoicesOnline.org, pointed to her laptop inside of an orange messenger bag, calling it her office. Trinidad native Popplewell is the only full-time staff member for the Global Voices Online, an international project that sorts through blogs around the world, giving them context and linking to the original blog posts.
The international project began in 2005 and runs as a non-profit site, receiving funds from the Berkman Center for Internet and Society at Harvard Law School. Made up of mostly part-time staff and volunteers, the contributors work independently, communicating through e-mail, comments and online communities such as Google groups.
"There's no model for what we're doing," Popplewell said during the International Symposium on Online Journalism. "I don't know if there's any organization that functions the way we do, putting the amount of content that we do online."
Popplewell said she rarely sees her colleagues, whom she speaks with daily through e-mail, except for summits and symposiums. She has been involved with the organization since 2005 and has been able to meet many of them, but she worked for the project for three months before meeting any of her co-workers.
"It's an incredibly rich community of interesting people, and we're doing interesting things," she said.
For Popplewell, working independently is nothing new. Her career began as a television media producer, working on mostly feature stories. She worked at an independent production house, formed a company with friends and has worked with her brother on independent projects. She began a podcast and blog site called Caribbean Free Radio in 2004 as an outlet for her passion for podcasting and to create more exposure for the Caribbean outside of tourism and reggae music discussion.
"My main motivation was adding to the presence of the Caribbean online," Popplewell said.
She said she thinks her site gained attention from Global Voices Online because of the regional cultural perspective she was providing through her podcasts. An editor from Global Voices contacted her to become the Caribbean regional editor, and after a few changes, she became the co-managing editor and finally the managing director.
Popplewell said that the ability to travel, work independently and make friends around the globe makes the job perfect for her.
"This is exactly the job that I would have created for myself," she said. "I come from a small country; after a while, you want to look somewhere else."
While many news editors speak of cutbacks in their international bureaus, Popplewell and the contributors to Global Voices strive to amplify the global dialogue and feature stories that are cross-cultural in content. She said she understands the cutbacks because of growing travel costs and shrinking budgets, but the Web site allows for citizens and journalists who already live in their locations to have regional content online.
"One of the things that we can do is change very quickly and innovate quickly," Popplewell said. "It's not a replacement for international coverage but it is a complement."
In three years, Global Voices Online has added new departments, including: Advocacy, which features advice such as how to log in to YouTube if the government has blocked the site; Rising Voices, for bloggers censored by their governments; Lingua, which currently translates stories into 13 different languages; and special coverage, which first appeared during the protests in Burma.
Popplewell said her goals are to keep the site afloat amid cutbacks in international bureaus at newspapers. The site's reports have been picked up by Reuters, and Popplewell hopes The New York Times will pick up the site's updates as well. Popplewell would ideally like a news wire that would pick up Global Voices stories.
"We have taken what we think is a huge step in trying to reform or enhance global media," Popplewell said.
ISOJ 2008: Engaging Communities, from Knight Center on Vimeo.