Students Beginning to Find Possibilities in Online Journalism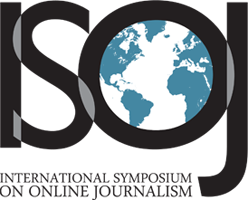 If you check the weather at SpartanEdge.com you'll be greeted by a friendly man who calls himself Ron the Weatherblogger. Ron draws you in, and before you know it, you're reading the forecasts from several days ago, just to see what he has to say.
But Ron's climate-central blog is just one of many available channels on SpartanEdge, an online-only publication at Michigan State University that illustrates how new approaches to journalism online are changing the future of the medium.
Daniel Reimold, the first speaker in Saturday's "New Journalistic Forms and New Journalists" panel at the International Symposium on Online Journalism, talked about how online only publications are gaining popularity among college students and even competing successfully with traditional campus newspapers.
Reimold used Spartanedge.com and Speakeasy as examples of how students are using the internet in new ways to report the news. Speakeasy, based at Ohio University, is competing so well with the campus paper, The Post, that writers for the paper are prohibited from contributing to the online magazine. When faced with the decision, many students are choosing to take the digital route instead.
According to Reimold, one student remarked, "ink stains are so 20th Century."
The crowd at the International Symposium for Online Journalism also got to hear Lou Rutigliano, a doctorate candidate at the University of Texas, talk about the importance of teaching future journalists the essentials of blogging.
In his class at UT's School of Journalism, Rutigliano requires students to maintain blogs, and teaches them the potential of the medium. But his purpose today was to inform administrators and other journalists of the importance making sure that the next generation of writers is able to use the tools at their disposal.
"It really is the future and it's important for the students to learn about the possibilities," he said.
ISOJ 2007: New Journalistic Forms and New Journalists, from Knight Center on Vimeo.