Symposium brings marketing side of journalism, too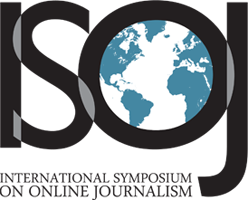 One of the best parts of the International Symposium on Online Journalism is the fact that aside from professional journalists and academics, the event also brings individuals from the marketing side of the industry. Earl Wilkinson is one of those individuals. The executive director and CEO of the International Newsmedia Marketing Association, Wilkinson took the time to answer a few questions via e-mail as he prepares to attend the symposium for the first time.
ISOJ: Give a little bit of information about the INMA and what the organization does.
Earl Wilkinson: The INMA is the world's leading provider of global best practices and marketing ideas for newsmedia companies looking to grow amid profound market change. We aim to provide publishers with thought leadership and practical ideas to grow audience, advertising, brand, and profits. We do this through a magazine, e-newsletters, a web site, conferences, reports, and networking tools. We have more than 2,000 members at the leading newspapers in North America, Europe, Latin America, Asia/Pacific, Africa, and the Middle East.
ISOJ: What does your job as executive director and CEO entail?
EW: Guiding an association of volunteers, collectively mining what they do best, and putting it into a narrative that can be digested and understood by newspaper executives worldwide.
ISOJ: You are chairing a panel titled "Strategies to Survive the Digital era: where do newspaper companies go from here?" What is your take on this question?
EW: We are moving from "newspapers" to "newsmedia companies," moreso in Europe, North America, and the South Pacific, and less quickly in Africa, Latin America, and South Asia. What this means is that our lone value proposition is no longer printing news on paper. Instead, it is about creating value from the clever integration of audiences, platforms and content. I still use the term "newspapers" as short-hand, but they are really much more than newspapers.
ISOJ: Have you attended the symposium before?
EW: I have not attended, yet I look forward to hearing a wide range of executives talking about new solutions for readers and advertisers.
ISOJ: If you were to take a guess, what would you say is going to be the most talked about topic at the symposium?
EW: I suspect the symposium will mirror the conversations happening among INMA member companies, circling around value creation and the clever integration of content with platforms and audiences. Our industry is a laboratory for that simple formula.
ISOJ: Many students attend the symposium in hopes of networking with professionals. Is this a good networking opportunity for them with the INMA?
EW: INMA is a good portal to newspapers around the world, and I'm certainly interested in talking with attendees about our industry.
ISOJ: What does 2010 hold in store for INMA?
EW: Crowdsourcing a solution to the "content + platform + audience" equation, looking for monetization options, and more. The most free press in the world is the one that does not rely on government, and we want to restore profitability to newspapers and find new business models.
ISOJ: Is there anything else you would like to add?
EW: Visit us online or find me on Facebook to stay in touch with where the Industry Formerly Known As Newspapers is going.
You can follow Earl Wilkinson on Twitter.