The power of Newspack: ISOJ luncheon hears how open-source technology can support independent newsrooms
The role of traditional media has drastically changed in the age of digital journalism, and smaller and medium-sized news organizations have struggled to shift to new systems, such as CMS, the content management system used to publish work. To address this issue, journalists and technologists have worked to develop open-source platforms and other digital tools to help newsrooms globally.
One of these open-source platforms is Newspack, an initiative launched in 2019 by the software company Automattic with funding from the Google News Initiative. At the 24th International Symposium on Online Journalism (ISOJ) on April 15 in Austin, Texas, attendees learned about the history of Newspack and its benefits for news organizations.
Newspack consultant Fernando Diaz led the lunch workshop, "The Newspack way: How we're building an operating system for independent journalism through open source technology, best practices and shared services," with Neil Chase, chief executive officer at CalMatters, a nonprofit news site that covers California. Diaz also led a 15-minute hands-on demonstration of Newspack's features, audience engagement and revenue operations.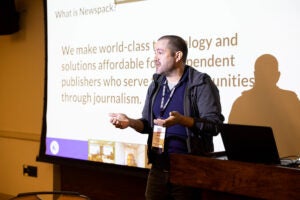 The multi-use platform uses the latest version of Gutenberg on WordPress, a code name for the block-based editor that allows users to add multiple media (e.g., photos, videos, social media posts) and customize the website's layout. Diaz also explained that the Gutenberg model allows for a flatter workflow and production, ranging from editorial to business to engagement.
Over the past 3-1/2 years, more than 200 publishers have migrated to Newspack, and Diaz said the platform plans to reach 300 publishers next year.
"We provide platform as a service. We don't sell [newsrooms] a website. We are not a custom agency," Diaz said. "We want you to be able to do journalism. We want you to be able to grow your business. We want to be able to serve your team."
Newspack also does not issue long-term contracts. Instead, it is a monthly service with various pricing options, including a free plan without support.
Diaz said that Newspack focuses on performance, operational efficiency and stability. Along with publishing stories, the platform provides news organizations with tools to design websites, promote their work through newsletters and generate revenue. With a 24-person fully remote team, Newspack has a Slack channel for publishers to collaborate and share their work. Diaz also leads demonstrations on Zoom every Monday at 9:30 a.m. CDT.
"We are helping [to] enrich and reinforce that community, so publishers can help each other," Diaz said. "If we are able to identify new features, new tools [and] new needs, those get folded into our roadmap, so that we can build them on behalf of the publishers."
During the hands-on demonstration, Diaz walked attendees through Newspack's main features on WordPress. Users can create a newsletter subscription or donation pop-up campaigns without having to code and embed them into the bottom of every article.
"It lets [newsrooms] get out of the business of running a technology company when we are all too small and too focused on our business," Chase said.
Author's bio: Thalía Menchaca is a senior at the University of Texas at Austin studying journalism with a minor in Latino media arts and studies. She is an intern at the Daily Dot and previously interned at the Voces Oral History Center.