The New York Times is focusing on diversity and digital transformation during new editorial era, executive editor tells ISOJ
Ten months into his tenure as the executive editor of The New York Times, Joe Kahn reflected on the newsroom's digital transition and diversity April 15 at the International Symposium of Online Journalism in Austin (ISOJ).
In a keynote session moderated by Evan Smith, co-founder and senior advisor of the Texas Tribune, and senior advisor to the Emerson Collective, Kahn said that his leadership will be marked by a focus on increasing the news organization's culture and diversity and furthering its transition onto digital platforms.
"We have the right combination of commitment to quality that the best traditional new organizations have, but I think we have also learned, and this was not always the case … that we stand still at our peril," Kahn said.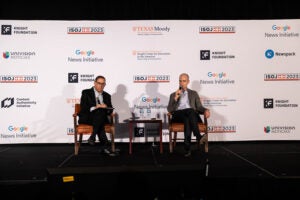 One of The New York Times's top priorities is to continue to find sustainable news models. So far, it's on the right track. In February 2022, the news organization hit its 10 million subscriber goal three years ahead of schedule. Now, the Times is on its way to attracting 15 million subscribers onto its platforms by 2027.
Kahn said the Times is working toward that objective by prioritizing news bundles that complement its traditional news coverage with more niche content, such as the sports site The Athletic and the product review site Wirecutter.
"News is going to be the number one source for bringing new people in, and those other journalistic services are the things that we hope will keep them there," Kahn said.
Increase diversity
In addition, The New York Times is also working toward increasing the staff's diversity in terms of ethnicity, race, geographic location and backgrounds. Kahn emphasized that programs such as the Local Investigations Fellowship, which allows young journalists to explore investigative work in their communities, are a testament to the Times's commitment to becoming a "truly national and truly global" news organization.
"We have too many people on the coasts. We have too many people still in New York, D.C., L.A. and San Francisco," Kahn said. "We want to invest more in understanding what's happening around the country with people who are living among the people they are reporting on, so we have a long way to go."
The moderator Smith agreed on the importance of more local news reporting and drilled down on the need for more geographical diversity.
"Since 2005, a quarter of the nation's newspapers have shut down. By 2025, it will be a third," Smith said. "We're in a really bad place, and the consequence of this is that we have two Americas. We have one informed, and we have one, not."
In an effort to close that gap, the Times is not only hiring employees from more diverse backgrounds, but also focusing on retaining them. Kahn said the organization's strategy is to spot journalism talent at early stages in their career and then foster their growth.
"We have to provide those opportunities for them, or they are going to leave," Kahn said. "So it's not only bringing people in, it's creating the culture that incentivizes them to stay."
Author's Bio: Sierra Juarez is a fact-checker and researcher based in Mexico City.