YouTube hosts lunch workshop at ISOJ on using short videos to drive audience engagement
News creators gathered for a lunch workshop hosted by YouTube called "Shorts for journalists: How to optimize your news experience and tell your stories on YouTube Shorts" on the first day of the 24th annual International Symposium on Online Journalism (ISOJ), held April 14 in Austin, Texas.
Led by YouTube global news partnerships lead Kourtney Bitterly, the workshop discussed how news and content creators can leverage YouTube Shorts to drive attention to their long-form pieces and drive audience engagement.
YouTube Shorts are "snackable" videos that are 60 seconds or less in length and are meant to draw first-time viewers to a particular channel or a full-length YouTube video. The Shorts feature currently has 1.5 billion monthly logged-in users and surpassed 50 billion daily views globally, Bitterly said.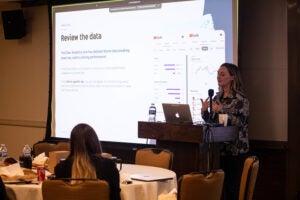 "Long and short content, it serves different purposes for the audience," she said. "I think what we are seeing is short-from content is definitely very snackable, and it provides an opportunity for people to really be able to consume a lot in a short amount of time."
Short form content is still in its early stages, Bitterly said, and there is a shift in the types of stories people are telling. Bitterly recommends using Shorts to showcase raw moments or behind-the-scenes journalism shots to provide an additional perspective that may not be featured in a full-length video. 
How can news organizations better utilize Shorts?
1. Include dates
"In order to want to have audiences continue to know that you as an organization are providing up-to-date information, are reliable, being able to really distinguish when something occurs can be really, really useful," Bitterly said.
2. Caption videos
"You're not always going to watch with the sound on and so being able to help people get that information quickly, even if they're just scanning it and reading rather than having audio on, can be really helpful," she said. 
3. Use intriguing titles
"This isn't a situation of trying to keep interest with any kind of clickbait titles but rather what really helps kind of peak someone's curiosity and makes them want to remember," she added.
4. Lean into trends and graphics
Shorts that are visually attractive or resonate with audiences are more likely to be viewed and recreated by others to continue sharing.
"It's actually a participatory sport," Bitterly said in reference to Shorts viewers' abilities to create short clips themselves in response.
What does this mean for long-form content?
Bitterly made sure to clarify that the existence of Shorts does not mean long-form content is ending. YouTube living room, or YouTube content connected to a TV for viewing, is typically long-form content of approximately 21 minutes, she said.
Ultimately, whether to feature news as long or short form depends on the audience.
Bitterly cited The Washington Post as a successful example of leveraging Shorts for different audience. The Post's main channel features Shorts that provide news recaps or highlights of current events while its alternative Shorts-specific channel focuses on experimental Shorts that may push the line and attempt to showcase humor.
"Since the barrier of creation is quite low, there's a lot of opportunity to experiment and see what resonates with audiences," Bitterly said.
Author Bio: Leena Alali is a soon-to-be graduate of the University of Texas at Austin in Supply Chain Management and Management Information Systems. Leena writes news and investigative content and has bylines in the Daily Texan, Austin-American Statesman, and Austin Chronicle.