Academics present research on new practices in newsrooms using technology
Watch video of this research panel discussion.
With the arrival of technology to the world's newsrooms, journalists have had to make a mental change in how to organize their work.
On the first day of the 18th International Symposium on Online Journalism (ISOJ), researchers from different universities shared the main ideas of their projects, focused on the new practices that are being carried out in newsrooms because of technological changes.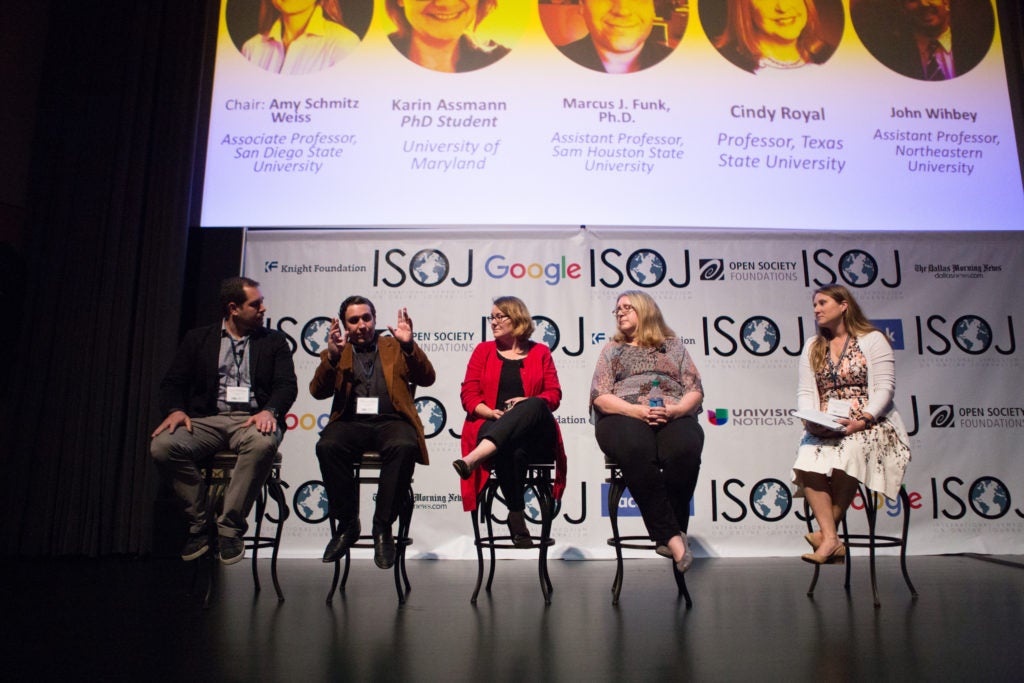 The panel was chaired by Amy Schmitz Weiss, ISOJ research chair, associate professor at San Diego State University.
Karin Assmann, a researcher at the University of Maryland, spoke about her research on "audience engagement editors" and their role as intermediaries between journalists and the public that consumes their work.
According to Assmann, the appearance of this position has caused a change in the dynamics of newsroom work thanks to its role as an agent of change that teach journalists to make their work more attractive for new distribution channels – such as social networks – as well as to promote themselves as a brand from a marketing point of view.
"It's a networks society and newsrooms are understanding it, to use those audience engagement editors as intermediaries between the world of marketing and the world of journalism," Assmann said.
Assmann, who is also a collaborator for Spiegel TV in Washington DC, said that metrics have become an important element in the work of journalists, to the extent of defining, in many cases, the focus of their stories.
"I looked how metrics is both a technological change, meaning there's a dashboard on some journalists computers in some newsrooms. But it also means that they have to think about who they are writing and producing stories for," Assmann said.
This direct relationship with the audience is being neglected by many media outlets, especially in the field of community journalism, according to Marcus J. Funk, a professor at Sam Houston State University, who gave an overview of his research "Decoding the Podcasting: Identifying Community Journalism Practices in Newsroom and Amateur Podcasts."
According to Funk, people's confidence in the mainstream media declined in 2016, while the popularity of alternative platforms such as the podcast showed a significant increase.
The researcher studies how podcasts made by people who are not avocational journalists help build relationships with the audience following the principles of community journalism, in which listeners are close to the medium and have direct communication with it. Likewise, Funk posed whether non-professional creators of podcasts can be considered journalists, since they follow the same principles of community journalism.
Like podcasts, media newsrooms are developing all kinds of digital products, which has created the need to train professionals who know how to take advantage of journalism products.
In her research, "Managing Digital Products in a Newsroom Context," Cindy Royal, a professor at the School of Journalism and Mass Communication at Texas State University, addresses the need to adapt the development of technological tools to the needs of journalism.
"I began to realize that these were skills that media organizations need to have with some adjustments," Royal said. "Digital products management needs to become more central to the organizations and not be considered a technological sideline."
The researcher said that digital product management is the new way of doing journalism and is an opportunity for students in this profession to integrate their knowledge of technology, leadership and communication skills.
Another of the skills studied within the newsrooms is the use and analysis of data for journalistic purposes. In his "Knowing the Numbers" project, Professor of Media Innovation at the Northeastern University School of Journalism John Wihbey studies the differences in how journalists and teachers of journalists use and interpret data and statistics.
As part of a survey he conducted for his research, Wihbey found that the percentage of journalists considered to be prepared for data analysis is only 11 percent.
"The facility and passion for statistics and research in journalism can emerge from both academic and professional settings, and find distinct applications both in the academy and the newsroom," said Wihbey.
The researcher, who prior to his presentation was awarded the best paper award, stressed that there are many tools available online so that journalists can be trained in data management and analysis and thus combat the so-called "statistical incompetence" which, he said, characterizes many journalists.
"Platforms such as Tableau, Facebook and Google are rolling out these new journalism programs. I think we should take all these tutorials and programs, and see how they work for us."
The 18th ISOJ takes place at the Blanton Museum of Art on April 21 and 22. The conference is streamed live at http://isoj.org/.
The research above is available in Volume 7 of #ISOJ, the official academic journal of the symposium. Access a PDF of the papers here.