At ISOJ 2023, Puck's Jon Kelly talks about the next era of business models for journalism
What is the next phase in the evolution of business models for news? As technology advances and media habits change, diverse revenue streams and sustainability are common goals among media organizations worldwide.
ISOJ 2023 opens up a conversation about the future of media innovation in a keynote session delivered by Jon Kelly, co-founder and editor-in-chief of Puck, and moderated by Sewell Chan, editor-in-chief of the Texas Tribune.
"Journalism in the Era of Business Model Evolution: Imagining the End State" takes place on Friday, April 14 from 2:15 to 3 p.m. in-person and will be available virtually with conference registration.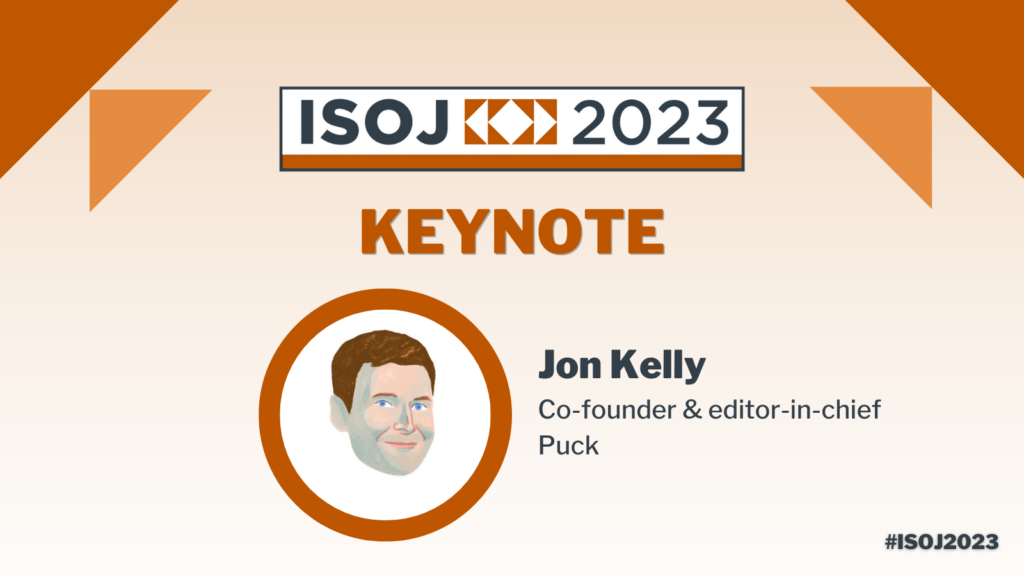 Kelly describes the "end state" as the point at which the public embraces that "not only is journalism worth paying for, but the best work is essential to pay for."
Kelly's media company Puck is a newsletter service geared towards telling "the inside story" of current events. Its monthly or annual subscribers often work and live in places described as epicenters of power: Wall Street, Washington, D.C., Silicon Valley, and Hollywood. Puck's journalists are also partners who share an ownership position in the company.
"We're living in a time where business models are the key evolutionary force in our economy and society," Kelly said. "Now there's a lot of experimentation on the frontier, which has made everyone understandably optimistic that the future is very bright."
He noted that empowering writers while keeping the end product and audience in mind are keys to reimagining business philosophies and models.
"Journalists are well-served to think like business executives, take risks and understand how they are compensated." Kelly said. "The more journalists endeavor upon that, the better it'll be for the industry."
You can experience Jon Kelly's keynote and hear from more speakers at ISOJ 2023. Don't miss the exciting conversation and sign up today!
ISOJ, which began in 1999, brings together journalists, media executives, scholars and students to discuss the impact of technology on journalism today and in the future. It is an innovative conference that bridges the gap between the news industry and academia. 
For updates and additional information, you can visit ISOJ's website, Twitter, Facebook, and LinkedIn. If you have any questions, please contact us at isoj@austin.utexas.edu.