Borja Echevarría talks about the success of digital subscriptions and the transformation of Spanish newspaper El País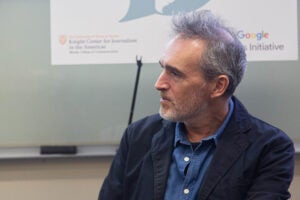 Spanish journalist Borja Echevarría is responsible for a global newsroom with more than 400 journalists, which produces one of the most traditional newspapers in the world. El País, founded in Madrid in 1976, is still on sale at newsstands in Spain and, at the same time, is driving a revolution in the digital environment.  Echevarría, managing editor of the newspaper, talked about the transformation taking place in El País with Rosental Alves, director of the Knight Center for Journalism in the Americas, at the 15th Iberoamerican Colloquium on Digital Journalism on April 3.
The El País digital subscription model is great news for the Spanish newspaper: launched in May 2020, in the midst of the COVID-19 pandemic, it continues to exceed expectations of the newspaper's management, Echevarría said. In less than a year, it reached 100,000 digital subscribers, and is expected to reach 200,000 next month, two years after its launch, he said.
For Echevarría, the digital subscription model arrived "very late" in El País compared to the rest of the industry. The New York Times, one of the first major international newspapers to implement the model, did so in 2011.
"We had planned to launch a payment wall in El País on March 1, 2020, and we had been working on it for a year, preparing for this, collecting a lot of information from readers, testing a pay wall as well . . . which is a fundamental strategy before subscription," he said. 
The three-month delay in the launch was due to the outbreak of the pandemic. "Public service seemed much more important to us and during the first months [of the pandemic] we have never had audiences as large as the ones we had during those months. In April 2020, El País had 185 million unique visitors and more than 1 billion page views," he said. 
The subscription model was finally launched by El País on May 1, 2020, and "recruiting subscribers during the first two months completely overwhelmed us, it surpassed our expectations," Echevarría said. 
Nonetheless, "I feel that we are at the beginning of the beginning of the beginning of a project that has yet to be built, to understand the audiences in each country, to adapt prices to each market, to improve our product," he said. That's because 75% of El País subscribers are in Spain and 15% are in Latin America, which Echevarría considers a growth opportunity in the region.
Technology itself is one of the challenges to sustain a successful digital subscription model, but it's not the only thing, Echevarría emphasized.
"I'd say that in a newspaper model for the year 2022, all three or four legs have to be super greased and everything has to work perfectly and be aligned: the editorial model, the business model, the technology model and, I'd add, marketing. I think these are four levers that have to go hand in hand in companies.
"If technology fails you, no matter how good an editorial model you have, you're screwed. If the publishing model fails you, which is the heart of everything, then you don't have anything to sell either, and if there is no clear business model, then the same. And with this subscription model, if there is no good marketing, you also have problems," he argued. 
Redesigning El País
The new graphic project for El País digital, which debuted in October 2021, was "the icing on the cake" after the evolution to the digital subscription model, Echevarría said. The website redesign process took more than a year, he said, and started with listening to people inside and outside the newsroom.
"We invited interesting and relevant people from different industries to participate in focus groups around different topics about what a media outlet should be in 2022. We touched on many aspects, and in one group we had newsroom journalist, a Coca-Cola president, the founder of Idealista, which is a classified ad news outlet . . . and we spent a lot of time reflecting on what a news outlet should be."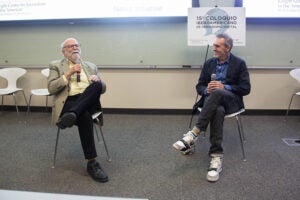 There was also an effort for different sectors of the company to communicate with each other in this process of redesigning the El País website. "I very much believe that we are in a time where those walls between the business side, the advertising side, the editorial side, we have to tear them down as much as possible, we have to make them as porous as possible. I pushed a lot to mix different parts of the company," Echevarría said.
"Product thinking," Alves observed.  
Alves asked about the investment by El País in multimedia formats. Echevarría said that less than a month ago the newspaper launched its first daily podcast. "Like so many others, nothing original," he joked. The program was launched as "a strong bet" by the company, which put together a team of 10 people to get started in this area, Echevarría said. The bet seems to be paying off, as the podcast surpassed 1 million listens in its first month.
For Echevarría, the podcast also helps bring the newspaper and its journalists closer to their readers/listeners, which can lead to more subscriptions.
"What I like most about doing a daily podcast is seeing how the talent of more than 400 journalists in El País is used to tell stories in a way that is much closer to the readers. I think that connects a lot with subscriptions, having a closer relationship with readers. I think the podcast helps a lot. Listening to our special envoys in Ukraine talk about what is happening, but close by, not with the corset they wear while writing in a newspaper like El País, following a style book, with its super structured culture of how to tell a story.
"Here they are unleashed. I think for readers to get to know our journalists, what we do, how we do it or how we explain it, I think it will help us and contribute a lot to the newspaper," he said.