Fact-checking initiative Factchequeado aims to combat misinformation in Hispanic communities in the US
Journalists need to collaborate and form alliances to help counter misinformation in Hispanic communities, according to fact-checkers during a panel at the 2022 International Symposium on Online Journalism (ISOJ) on April 1.
The panel, titled "Fact-Checking en español: Latin America, Spain and a new initiative for the United States' Spanish-speaking communities", explored the need for verified, reliable information amongst Hispanics and announced the launch of Factchequeado, a project created to help fill the gap.
Tamoa Calzadilla, the director of Univision's El Detector, the first Spanish-language fact-checking organization in the United States, said El Detector came to fruition in 2016 as a way to debunk misinformation and disinformation in Hispanic communities. The fact-checks are distributed in innovative ways such as on TV shows and on social media.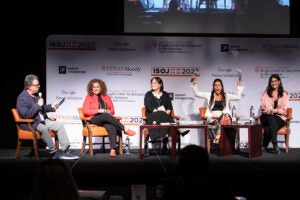 Calzadilla gave an example of a video circulating on social media that showed a clip of President Joe Biden speaking at a press conference. While the clip was legit, the Spanish-language caption underneath the video didn't match Biden's words and falsely suggested that the United States decided to go to war with Russia. This sort of video is created specifically to target and to manipulate a Spanish-speaking audience and is fairly common on WhatsApp and social media platforms, she said.
Although the team at El Detector monitors social media religiously and has worked for years to protect Hispanic communities against disinformation campaigns like the one in the Biden video, the need for more verified information in Spanish still exists.
"We work hard, but it's not enough because the problem with mis- and disinformation among Latinos is huge," Calzadilla said.
Because there's a lack of Spanish-language fact-checkers in the United States, Calzadilla said she is thrilled about El Detector partnering with Factchequeado, which will focus on busting online myths in Spanish.
Two international Spanish-language fact-checking organizations, Maldita.es in Spain and Chequeado in Argentina, partnered to create Factchequeado in the United States with the support of the Google News Initiative. The initiative launched during the ISOJ 2022 conference on April 1 and already has alliances with at least nine news organizations in the U.S., including PolitiFact and Documented in New York.
Laura Zommer, executive director of Chequeado, said she and Clara Jimenez Cruz, the CEO of Maldita.es, have conversed for years about the need for more Spanish-language fact-checking in the United States. The two women noticed that Spanish-language misinformation created in the U.S. would oftentimes end up in their countries.
"We all know that this information knows no boundaries and many times it's created specifically for export," she said.
Zommer added that U.S. organizations largely ignore misinformation campaigns targeted at Hispanic communities outside of the country, so although Maldita.es and Chequeado are based in other parts of the world, the two co-founders realized collaboration was necessary to resolve the misinformation at its origin in the U.S.
"In an old, perhaps more traditional mindset of media, Maldita.es and Chequeado are competitors," Zommer said. "But according to our own definition of journalism . . . we realize we have complementary strengths that can help us grow our impact and become closer to our own missions, which is to counter misinformation, serve our communities, and increase quality of life."
Jimenez Cruz agreed with the sentiment, saying Factchequeado will focus not only on releasing content to counter misinformation but will also create a research database to figure out how the information began and spread. One way that Factchequeado aims to do that is by studying content on WhatsApp, which is often used in the Global South for chatting with friends and family and for consuming and sharing news.
"We want to listen to what Latino communities in the U.S. need and then build from that," Jimenez Cruz said.
The managing editor of Factchequeado Natalia Guerrero said they'll partner with established media organizations in the United States in order to have better insight into different Hispanic communities across the country. For example, she said, what is important to a Cuban in Miami might not be the same as a Mexican in Texas.
"We want to listen to each community knowing that Hispanic communities in the United States are not a monolith," Guerrero said.
Bill Adair, the creator of PolitiFact and chair of the ISOJ panel, said that while fact-checking organizations have worked to combat misinformation throughout the country, the focus on Spanish-speaking content and platforms is revolutionary.
"This is really new for the United States," he said.
News organizations in the United States that are interested in collaborating with Factchequeado can find out more information on their website.
Sierra Juarez lives in Mexico City and is a freelance reporter and assistant editor at Texas Monthly.