CNN takes pilates approach to breaking news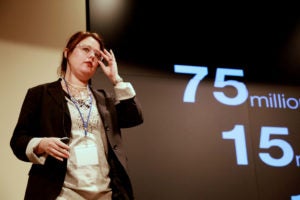 CNN.com vice president and managing editor Meredith Artley spoke Friday, day one of ISOJ, on how CNN embraces its audience and the future of journalism by going beyond breaking news.
Artley said that while stories about Lindsay Lohan and missing snakes were interesting, people wanted more than fluff. Stories coming out of the tragedy in Japan, she said, show audiences understand and want to interact with the news.
The tragedy has driven traffic to CNN.com to the highest it's ever been with the exception of President Obama's election day. For example, in the first 10 days following the March 11 earthquake in Japan, the site drew an average of 75 million page views per day, 15 million video starts, nine million mobile page views, and 1 million app downloads.
While the numbers are impressive, Artley said it's the future that shows the amazing potential for storytelling.
It's about both "strengthening your core and stretching into other areas," she said.
Stretching for CNN.com means going beyond the breaking news video format. It means drawing in a larger audience through emerging technologies, new and unconventional beats, and merging participation into diverse storytelling strategies, according to Artley.
She highlighted CNN.com's "stretches", including the food blog Eatocracy, as well as the to a serious human interest beat, The CNN Freedom Project.
Artley also pointed how how flexible CNN remains, pointing to Open Story as an example.
Open Story takes traditional reporting and adds user generated content and rich data to cover a story like Japan or SXSW to provide richer and more in-depth news coverage without separating each element into it's own corner of the website.
Artley went on to preview some upcoming online changes CNN will launch including a more cinematic design, user-controlled video pages, video commenting capabilities on stories, and complete audience connections to video content across multiple platforms.
"It will open up a lot more storytelling possibilities that we haven't fully realized," she said, "perhaps meeting audiences where they are."
ISOJ 2011: Meredith Artley keynote, from Knight Center on Vimeo.