REPORTR.NET: Research on how journalists are using Twitter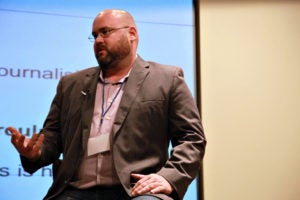 The final research paper at the [Friday session of] ISOJ focused on how newsrooms were using Twitter.
Dale Blasingame from Texas State University, San Marcos, looked at how Twitter was changing TV news.
(Paper, PDF).He started by saying that a web first approach in newsrooms is no longer enough due to the instant dissemination of news via Twitter.
Twitter allows both professionals and citizens to "jump the gate" and send news directly to audiences, challenging the traditional gatekeeping role of the journalist.
Blasingame coded almost 2,300 tweets from San Antonio newsrooms on a shooting incident.
He said this case study showed how Twitter could be used as a tool to deliver news, but added "it would be foolish to suggest this happens on a daily basis."
In terms of his analysis of tweets, the most were promotional in nature, followed by breaking news.
The results were worse for official station Twitter accounts. One station account just sent promotional links for web stories automatically.
Blasingame recommended that newsrooms should restrain promotional tweets to just 20% of all their messages.
ISOJ 2011: Dale Blasingame, from Knight Center on Vimeo.