Daniel Eilemberg discusses the inception of Fusion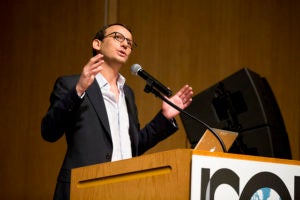 Daniel Eilemberg, the founder of Animal Politico — Mexico's first news platform to launch exclusively on Twitter — attended the 15th International Symposium on Online Journalism, which was hosted at the University of Texas at Austin from April 4th to April 5th. Eilemberg came to discuss the inception of a new multi-media platform company called Fusion, a combination of the Univision and Disney companies. Eilenberg joined Fusion this past January to assume the role of senior vice president and chief digital officer.
Eilenberg stressed the importance of appealing to the millennial generation. According to his research, more than half of the population are millennials. However, most news is "divisive, polarizing, partisan, and…just not entertaining," he said.
Part of the reason news has become this way is because "the idea of the American dream has changed dramatically for the current population," Eilenberg stated.
Recognizing the diversity of millennials living in the United States, Fusion was incepted with the goal of creating a multi-platform media channel that would foster a "smart, inclusive America." To do so, Fusion reexamined the pipeline a news organizations traditionally follows, which includes creating television, cutting short clips from the original broadcast, uploading these clips to the online platform, and adding extra content, such as interviews.
Fusion has taken this traditional pipeline and reversed it. They focus firstly on creating a variety and surplus of content on their digital platform and closely monitor how their audience reacts to it. This allows the production and testing of franchises as well as media channels. Then Fusion brings content that has already gained a following online and airs it on television.
Eilemberg also discussed the importance of social media for the company, saying it was a big inbound marketing tool that was responsible for a tremendous amount of traffic to Fusion's website.
He left the audience with this simple statement: "the future is mobile."
Life After Television News? Daniel Eilemberg panel at the 15th ISOJ in 2014 from the Knight Center on Vimeo.