Day 2 Notes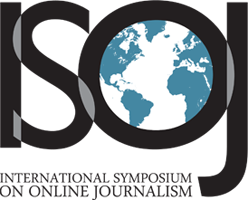 The symposium's second day included a fantastic back-to-back firestorm of participatory and non-profit journalism panels, as well as two more great research panels, and ended things with a bang. In the vein of yesterday's notes, here are my observations from the event's second and final day.——
Anybody hungover? Surprisingly enough, most attendees were on time for the morning's first panel, bright and early at 8:30 a.m. I guess nobody went out last night, or if they did, they were able to keep things responsible. Good job, guys! Although, breakfast was a bit light on people, so maybe that means something…
Soccer! Or futbol! We learned that both Harry Dugmore and Rosental Alves will be attending matches at this year's World Cup in South Africa. I'd like to see live tweeting when that goes down.
Talk about POWER. The two final industry panels of the conference, which discussed participatory journalism and nonprofit journalism, respectively, were two of my favorite and putting them back-to-back was a great idea. Many people I talked to loved them both as well, so good job by all panelists to make them so great!
Happy Birthday David! We learned that David Cohn, who likens himself to an ewok, was celebrating his birthday at the symposium, so somebody get the man a cake. He's also a fantastic presenter and got the audience involved and engaged in his presentation. He didn't read from his paper, had slides that were worthwhile and kept things light but informative.
FAIL. Ethan Zuckerman spent some time discussing FAILfare and talked about what he believes are his own failures with Global Voices Online. That's refreshing. As journalists, we tend to be a bit…uh…egocentric and refuse to admit our shortcomings. Props to Ethan for doing so and by bucking that trend, he'll go far.
The second coming of Earl Wilkinson. Just as Earl Wilkinson was a raucous and evangelistic presenter during Friday's events, Evan Smith of the Texas Tribune filled those shoes Saturday. He talked about the amazing things the Tribune is doing, and was extremely transparent regarding the funding the site has received, which is a LOT. I'm talking Justin Bieber type money.
TV? One more thing. Maybe it's me, but doesn't Evan Smith look sort of like a modern day version of a Mad Men character?
Reliving a classic. After lunch and prior to the first research panel, Rosental Alves played a fantastic video known as EPIC 2015, created in part by Matt Thompson, who presented in the non-profit panel. It was great to see the video again, and also get some insight into its creation from Thompson. Very enlightening stuff.
Getting played off? Seth Lewis had the unfortunate honor of the microphone losing power during his presentation. Is this the equivalent of getting played off at the Oscars? I doubt it, because Lewis' presentation was extremely informative, and just as Cindy Royal got plenty of retweets and talk after her presentation, Lewis seemed to get the same amount. These are the people doing great research, ladies and gents.
Blogger of the year. Alfred Hermida blogged fast and furiously – plenty faster and…furiouser? – than me, for all panels during the symposium. His posts went up quickly and they were always thorough and insightful. Check out his great work here.
Obey the stopwatch. Tom Johnson, although he was kidding, mentioned a pretty great idea for making sure people end on time during their presentation: alligator pit. Gonna stop when you're told to, now, folks?
——–
Let me be one of the what is no doubt many people to thank you for coming to the 11th International Symposium on Online Journalism. Thanks for reading this site, thanks for tweeting, thanks for blogging, thanks for everything. The symposium has become a huge event and is so important to what we as journalists are doing, have done and will do in the future. We'll see you next year.