Global Issues require global solutions: addressing online violence against women journalists
Addressing online violence against women journalists requires different resources, solutions and support for women everywhere experiencing harassment and other forms of violence online.
Online violence is a way to keep women out of news media and is an attempt to silence women, said Elisa Lees Muñoz, executive-director of the International Women's Media Foundation (IWMF), while moderating the first panel of the day at the International Symposium of Online Journalism (ISOJ).
A group of experts came together to share their personal experiences with online violence, provide resources and discuss solutions during a panel discussion on Wednesday April 28, 2021. The panel is entitled "Online violence against women journalists: How to combat this global scourge?"
Julie Posetti
, global director of research with the International Center for Journalists (ICFJ), began the discussion with insight into a global study in partnership with UNESCO done on violence against women. She emphasized that the study shows online violence against women is truly a global issue, but manifests itself differently everywhere.
"We define online violence as a combination of threats that range from misogynistic abuse, threats of physical and sexual violence, through to economic impacts and economic threats," Posetti said. "Also, digital security threats that are very serious and not to mention have psychological impacts as well."
Ela Stapley, digital security advisor and founder of Siskin Labs, spoke of the overall increase of online violence and resources that she helped create with a team of experts to prevent and mitigate online violence. Specifically, she spoke of two courses available in multiple languages that educate and give strategies to journalists about protecting themselves and their personal data.
"What we have here is a global problem and what we're looking for is global solutions and unfortunately there isn't an easy answer to this," Stapley said.
Gisela Pérez de Acha, reporter at the investigative reporting program at University of California, Berkeley, spoke on how individual reporters can address this issue using a toolkit that she uses to protect herself. Pérez de Acha gave quick and easy tips to invest in your security like using password managers, VPNs, and Google Voice.
"One of the most important things to me has been the solidarity networks that have come together after getting threats online," Pérez de Acha said. "What has saved my life and the lives of many other young women who have been horribly harassed is the network of solidarity that we have weaved together to be able to push through."
Ferial Haffajee, associate editor of the Daily Maverick in South Africa, offered some positive experiences in combating online violence. In addition she spoke to the lessons she has learned as someone who has experienced online violence first-hand and shared that what she has come to most value is the alliances and solidarity across the globe.
"The research, the alliances, the activism, and the speaking out about the experiences of women journalists is beginning to be heard," Haffajee said.
While progress may have been made with regard to online violence against women, there is still much to be done to protect the lives and security of journalists everywhere.
"I really hope that women, non-binary people and women of color who are seeing this, don't shut up. [Online violence] is scary but it doesn't mean that you have to stop doing your job," Pérez de Acha said. "Just as we are agents of our body, we are agents of our digital data and security. It is really important that we keep doing our work and keep pushing forward."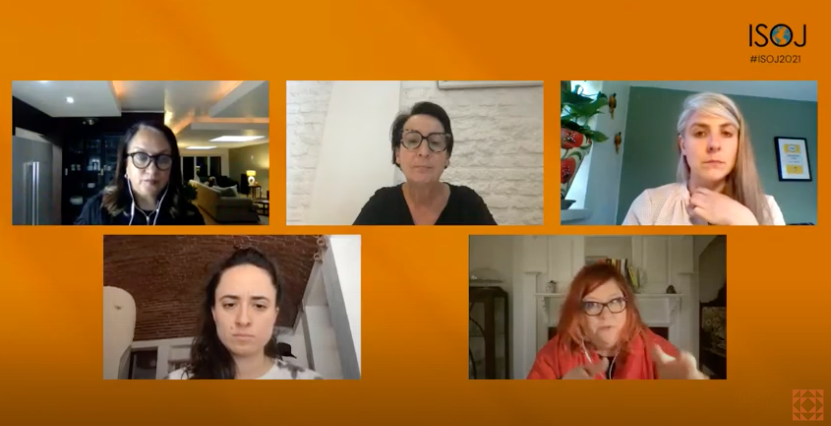 If you or someone you know is experiencing online violence, click here for resources and support.
Additionally, IWMF, UNESCO and the Knight Center have organized the free online course, "How to report safely: Strategies for women journalists and their allies," that begins on Monday, May 3. Register today.
ISOJ continues on Thursday, April 28, and runs until Friday, April 30. Follow along at isoj.org and on social media with #ISOJ2021. You can watch the panel in English here or in Spanish here.