Increased Internet Access Leads to Quick Global Change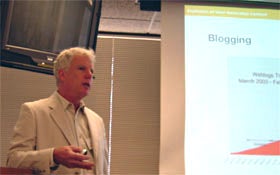 Five years ago people devastated by a tsunami would not have received as much aid as quickly as they did in December, 2004. Without the invention of blogging and other modern forms of information dissemination, many victims might still be helpless.
So says Gary Chapman, director of the 21st Century Project at the Lyndon B. Johnson School of Public Affairs at UT Austin as he presents the keynote address at the International Symposium on Online Journalism Saturday morning.
One particular site, "The South-East Asia Earthquake and Tsunami Blog," drew immense support from people worldwide. "Within a few days, it became the number one international point of information about the devastation of the tsunami," Chapman said. "There were very quickly developed useful resources such as photos of missing persons."
The blog had such an extreme impact on the success of relief and rescue efforts in Southeast Asia that United Nations peacekeepers have all been instructed to blog about their efforts in order to increase awareness and visibility of the communities they serve.
In other areas of the world, modern technology is changing the faces of journalism and how people access the Internet.
Chapman described a visit to a remote town in Africa where "they would ride the bicycle to power up the wi-fi transmitter to get the information and then stop pedaling when they got it," he said.
Though widespread, access to the Internet remains a financially impossible challenge to many, according to Chapman. Companies have begun to take notice and to develop technology targeted to this large segment of the global population.
Advanced Micro Devices's 50×15 Initiative, conceptualized by CEO Hector Ruiz, describes the "company's strategic vision of getting 50% of the world online by 10 years from now," Chapman said. "They consider it to be part of their business plan. They are targeting people who have a salary of between $1,000 and $7,000 a year, which is a huge segment of the world and has not yet been a target market of the PC companies."
With the creation of devices like Advanced Micro Device's PIC (Personal Internet Communicator) which runs a stripped down version of Windows and will sell for around $200, the Internet will be more readily accessible to larger segments of the world population. One selling point of the PIC will be that it can be fixed remotely from the provider instead of the end-user while on the phone with a representative, virtually eliminating the possibility of melting down your own device.
With the added accessibilty of the Internet comes a trend of more user-friendly interfaces, grass-roots community targeted applications and rich, diverse services that are generally free. Sites such as Flickr.com which hosts user photos for online sharing and Skype.com for voice-over-IP communication have created a new generation of Internet users who rely on the Net for staying both informed and in-touch.
"These days, if you're of dating age in Iran, you'll want to know their blog addresss before you want to know their phone number," Chapman said, pointing out that over 70,000 blogs currently exist in Iran alone.
A new concept that has recently begun to spark interest is the invention of new digital cameras that use Global Positioning Systems to mark each photo with the exact location the shot was taken. With this capability, future news readers may be able to fire up their web-browsers, type in an address or GPS location and read all the news that happened in that location.
This, coupled with the user-customizable interface of new Google Maps, has the potential to become an entirely new form of recording events. As yet, the exact implcations of this new technology have yet to be researched adequately.
"One of the most interesting programming challenges over the next five to ten years will be integrating these programs with one another like tinker-toys," Chapman said. "Right now you have two separate programs that each require a log-in and password, and they just aren't compatible. In the future, that will change."
ISOJ 2005: Gary Chapman Keynote, from Knight Center on Vimeo.