Online Journalism Must Evolve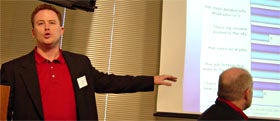 What business are we in? This was the question Steve Yelvington, Internet strategist for Morris Digital Works, asked at the 6th International Symposium on Online Journalism at the University of Texas at Austin.
Yelvington was referring to the present state of journalism. "Economics in journalism have changed from a scarcity of news to a surplus," Yelvington said. "We are in the business of audiences." He urged publications to forget about paid content, because charging for news only works when there is a shortage of information. He cited several publications that are appearing across the United States such as Metro, 20 Minutes, and The Examiner, which are distributed free of charge.
When Yelvington says audiences, he means advertising. He cited a 30 percent growth in online journalism from advertising revenue over the last five or six years. However, he also pointed to research by Phil Meyer, author of Vanishing Newspaper, which concluded that readership from 1970 to 2010 has decreased significantly, parallel to a declining daily consumption of print publications.
Yelvington urged publications not to panic! Newspapers are still strong mass ad vehicles, because all other media are suffering the same way," he said. "The key to the future is targeting."
Useful tools such as blogs, pictures and registration enable publications to better serve readers' needs, he added.
In closing, Yelvington said, "Everything has changed, and journalism needs to change with it."
ISOJ 2005: Online Advertising panel, from Knight Center on Vimeo.