Independent media panelists share struggles and solutions for reporting in polarized societies
Watch video of the global independent media panel from ISOJ 2017.
During the ever-popular international panel, participants came from all over the globe to the 18th International Symposium on Online Journalism (ISOJ) to share challenges and solutions to reporting in polarized societies.
Krissah Thompson, staff writer for the Washington Post, introduced the speakers and moderated the panel "Accountability journalism in polarized societies around the world," during the second day of ISOJ held in Austin, Texas.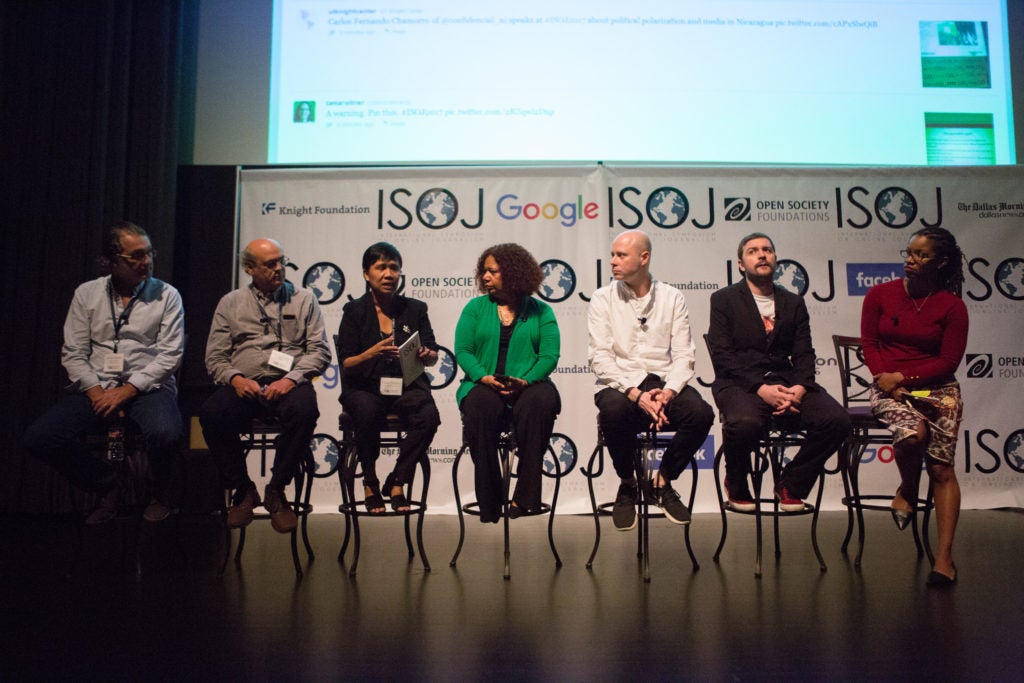 The first speaker was Carlos Fernando Chamorro, founder and editor of Confidencial in Nicaragua. For Chamorro, the polarization of society is due to the autocratic rule of the country's current president, Daniel Ortega, and the suppression of media.
"Since Ortega has been in power he hasn't given press conferences. There are prohibitions to give info to the independent press," he said. "In Nicaragua there is no accountability, there is no state of law, so the independent press is the only institution that can play this role of promoting accountability."
Confidencial's lack of access to public information has not stopped the organization from reporting quality news, Chamorro said.
"About 90 percent of open television and radio stations are controlled by the presidential family business and their private associates," he said. "To develop our own journalistic agenda, we cultivate independent sources, mostly based on trust and professional ethics."
In order to survive the era of polarization, Chamorro said credibility must not be lost.
"We battle every day against the pressure [of] self-censorship," he said. "They try to discredit us by saying we are part of the opposition party. So to keep credibility is number one."
In Stevan Dojčinović's Serbia, polarization has come about in the past four years after voters elected a conservative populist president in 2012. Since then, Dojčinović, editor-in-chief of KRIK.rs, has continued reporting on the polarized politics of his country.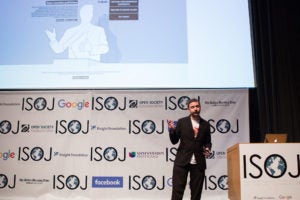 The Serbian outlet specializes in crime and corruption reporting to keep pressure on politicians but they currently face major challenges that include:
Media (self)-censorship: "There's no one single mainstream TV station, newspaper, that is ready to publish any kind of criticism," Dojčinović said.
A polarized society: "Half of the society always votes for (Prime Minister Aleksandar Vučić) and another part of society sees him as a dictator."
No advertising money: "It's not impossible as an independent media to get any advertising money. The thing is most of the private companies are afraid to advertise in independent media because if they do they will be under pressures from the government."
An unsafe environment: "The atmosphere that the government is creating through smear campaigns can mobilize citizens who are on the edge to send threats to the journalists or even attack them."
The key to breaking through to polarized audiences is to keep reporting well and reaching audiences on the opposite spectrums, Dojčinović added.
"If for instance, you report against Trump to Hillary supporters, of course you can inform them of new cases," he said. "But it's very important to find a way to approach an audience that is pro-government and against us."
Independent reporting is no easy task in Russia where the news is entirely depressing, said Ivan Kolpakov, co-founder and editor-in-chief of Meduza. Kolpakov was also stern on clarifying that the independent media outlet, also known as Russia's free press in exile, is based in Latvia but reports on Russian events.
"A Russian is a person who is permanently depressed. Your mood usually depends on what news you are consuming," he said. "So if you're an average reader of Internet media in Russia you are scared to death every day. It's like you are waking up every day and today is definitely not better than yesterday."
The result of the Russian media atmosphere is apathy. As a result, fighting apathy in Russia is of the utmost importance when reporting in a polarized society, Kolpakov said.
"You have to fight with your empathy, first of all, not with the empathy of the readers. You have to fight with your own empathy against this f***** up world," he said. "Every day when you come into your editorial office, you have to say, 'Let's rock.'"
Before there was a Trump, there was Rodrigo Duterte, said Malou Mangahas as she opened her presentation. Duterte, the Philippine president, has initiated a war against drugs that has resulted in more than 7,000 deaths of suspected drug users since June 2016.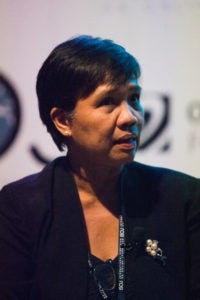 Mangahas, co-founder and executive director of the Philippine Center for Investigative Journalism, focused on how the drug war is dividing the country amid inefficient legal systems.
"The rule of law is very weak and the criminal justice system is quite slow in the Philippines," she said.
Covering the drug war in the Philippines correctly is necessary to keep public officials accountable but also prevent any infringements on human rights, Mangahas said.
"The point is we are not communicating with the president alone, but with the citizens," she said. "We need to connect the dots and data. We need to check, challenge and validate the context and subtext of stories and report more and better."
"Who breaks first loses, and we must strive to live to write another day," Mangahas concluded.
Luz Mely Reyes, co-founder and general director of Efecto Cocuyo, talked about reporting in a polarized society, much like the previous panelists. Yet, uniquely enough, Venezuela has been a polarized country for the past 20 years, she said.
One of the first things to happen in a polarized society is a war against the media. "The collateral damage of the war against media is the truth and the right to be well-informed," she said.
Breaking away from polarization is a goal for Efecto Cocuyo, but the way to do so is through community building, Reyes said.
"When we decided to launch Efecto Cocuyo, we asked (community members in Caracas) telling them we wanted to be journalists," she said. "People said, 'I am going to support you but you have to listen to us, you have to report on what is happening in Venezuela and you have to be close to us,'" she said. "It was a teaching moment for us because we learned from them."
Reyes ended her presentation with a suggestion that people learn more about the independent media if they wanted to understand what is happening in Venezuela, because they are one of the few outlets that have maintained credibility in the country.
"Efecto Cocuyo in English means 'Firefly Effect,'" she said. "(And) we were inspired by this effect of the cocuyo to be a tiny spark of light that together can illuminate an entire nation."
Martín Pallares, journalist and co-founder of 4Pelagatos, described how the Ecuadorian government was able to normalize reporting in a polarized society.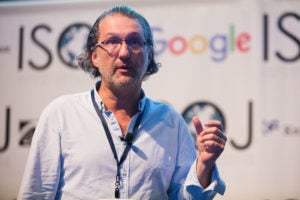 "One of the main purposes of autocrats is to make normal what is abnormal, once they have done that they have control of everything," he said. "It was not normal for the ruling party to use the public media as propaganda outlets, now it's normal. It was not normal for newspapers to be punished for not publishing news that the government believes are relevant."
Earlier this month, the Ecuadorian media watchdog, Supercom, fined seven news publications for not publishing news of public interest.
"Doing journalism in an authoritarian regime is like planning chess against someone who keeps knocking the figures off the board," he said. "It's like playing chess with somebody who is not playing chess."
Pallares ended with a last bit of advice: "We have to retake the meaning of the words," he said. "In Ecuador there is only one word master Rafael Correa, so we created the Mashi Machine."
The Mashi Machine allows people to write messages into a textbox, which are then replayed with the voice of Ecuadorian President Rafael Correa. The voice of Correa is captured using a mash-up of public talks he has given throughout his presidency.
To watch video of this panel and all others at ISOJ, visit Facebook or YouTube. Raw video is available at isoj.org.