Panelists look at successes and limitations of innovative video formats, including Facebook Live and VR
Watch the video panel discussion from ISOJ 2017.
The audience at the 18th International Symposium on Online Journalism (ISOJ) heard from journalists, professors and media directors about how news organizations can use innovative video formats to inform and engage with audiences.
This was part of the panel "Video everywhere: From live coverage to VR, 360 and other innovative formats," moderated by UT Austin School of Journalism director R.B. Brenner.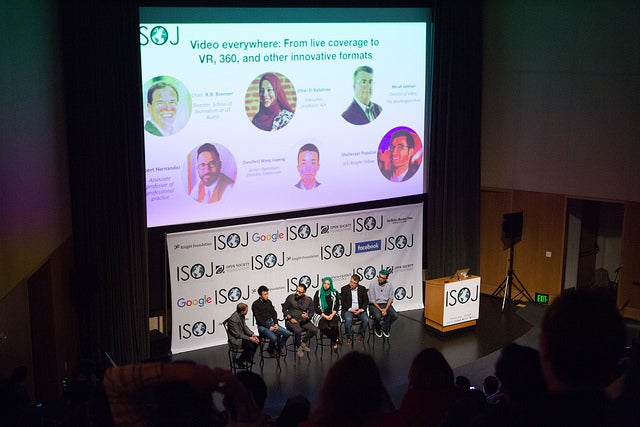 Robert Hernández, associate professor at the University of Southern California – Annenberg, opened up the panel on the advancement of immersive technology, namely virtual reality (VR), with a quick fact:  Over 90 percent of all Americans have their mobile device within reach 24 hours a day, 7 days a week.
"And somehow we are still married," he said as attendees filled the auditorium with laughter.
The two main developments in immersive technology Hernández shared are Magic Leap and Axon VR, both announced last year and part of a new wave of immersive-based technology.
Magic Leap is a new company, with initial investments from Google, now worth over $4.5 billion that is developing wearable technology to display digital 3D graphics in real-time but no official release dates have been announced.
On the other hand, Axon VR combines virtual reality in a head-mounted display and combines the ability to feel the objects shown. While at first a sceptic, Hernández changed his opinion after receiving a demo on how the technology works.
"With air pressure you feel the virtual world. I felt an apple, I felt a ketchup bottle, it felt like it was in my hand," he said. "A whole bunch of nope."
Regardless of what media format or technology becomes the new standard, "a good story is a good story," Hernández said.
"How do we get there? We have to go out to experiment, practice and fail in order to find them," he said. "And just because you produce it does not mean you have to publish, because it may not be good enough yet. But it's time, it's time for us to lead the next disruption."
Following Hernández, panelists focused on the buzz surrounding live videos, namely Facebook Live.
Micah Gelman, senior editor and director of editorial video for the Washington Post, talked about how Facebook Live videos have helped reporters by improving impact, depth, and immediacy of reporting.
"This is the opportunity for reporters to get into the weeds and they actually respond to it and they like that opportunity," he said.
Gelman also stressed three lessons learned: Facebook Live is not a broadcast, live streams must be moderated, and real news does well.
"It's not a broadcast, we aren't trying to be TV. We want reader feedback, we want the comments, we want to be able to respond in real time," he said. "At the same time you have to have an adult in that room, show the commenters on Facebook that you are there and you are keeping control of the trolls in the room."
Ethar El-Katatney, executive director for AJ+, mentioned the success of the video organization is in part due to the optimization for specific platforms, such as Facebook videos and Twitter videos, while also maintaining engagement.
"We consistently have more engagement than anyone else even though we produce the least amount of content," she said. "Our Twitter audience is really fun, it has more tone, more gifs. We do a lot of live events, those are very timely and sharable."
Yet, one of the struggles AJ+ had was finding the audience and determining their role with them.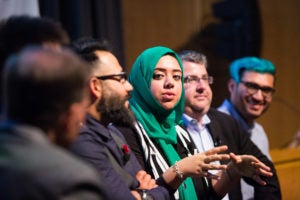 "Part of what we struggle with a lot is what our role is, 'do we include the gofundme link, especially if it's an organization that has a tone,'" El-Katatney said. "It's very clear who we stand for. AJ+ is very much about minorities, voice of the voiceless, standing up for people who are being played by systems. Once you know that, it's very clear to produce for your audience".
For Wang Jiapeng, also known as Sánchez, engagement is not as important as the proper use of resources within video journalism in China.
Jiapeng, senior operation director of Caixin, said there is an oversaturation of video services due to the lack of company giants like Facebook, YouTube, and Netflix. In a country where at least 90 percent of all video content is seen through phones, the Chinese companies have to be versatile.
"(Video service companies) try to be everything in China. They tried to be dominant but they couldn't," he said. "They are still burning money to try to be that."
The same scenario exists for live video companies, where the likes of Periscope, Facebook Live and YouTube live are missing. Instead, there are over 80 apps that offer live video services.
"In China, (the 80 apps are) basically some of the major apps who are trying to be dominant in terms of live stream platforms, not just having live stream functions," Jiapeng said. "I'm sure half of them will die at the end of this year or next year but we still have plenty burning money."
With the current video market, a key element for successful video journalism production has then been the proper use of financial resources and manpower, Jiapeng said.
"You want to be on all the major platforms, but that means a lot of money. And you want to be the first to report on breaking news, but that means a lot of money," he said. "In reporting breaking news, you really want to put up amateur videos because they are there (and) your correspondent is not. Then you follow up with your professional videos."
Journalist Shaheryar Popalzai finished the panel on "Video Everywhere" by discussing how 360 video and Facebook Live has worked in Pakistan while also drawing on its limitations.
The International Knight Fellow for ICFJ is currently working for the Pakistan run outlet, Express Tribune Dawn News, where Facebook Live has works for them in breaking news events.
Out of the top 50 videos the Express Tribune produced in the last year, 21 were Facebook Live videos, and two of them reached the million mark, Popalzai said.
"The best part is that we don't have to spend any money to use Facebook Live, we just turn on the phone camera and shoot at the scene," he said.
To watch video of this panel and all others at ISOJ, visit Facebook or YouTube. Video will be posted to isoj.org shortly.