ISOJ announces keynote speakers and initial lineup for hybrid 2022 conference, in Austin and online
(Austin, TX) – The 23rd International Symposium on Online Journalism will take place this year on April 1st and 2nd in Austin, Texas. The Knight Center for Journalism in the Americas is proud to announce that after the success of the last two years' online-only conferences, ISOJ 2022 will be a hybrid conference — onsite and also online, with innovative ways to secure participation by remote attendees, while keeping the traditional in-person confab. 
ISOJ is organized by the University of Texas at Austin's Knight Center for Journalism in the Americas and was created in 1999 by professor Rosental C. Alves, Knight Chair in Journalism and UNESCO Chair in Communication at UT Austin's School of Journalism and Media at the Moody College of Communication. For over two decades, ISOJ has brought journalists together for sessions that have covered some of the most pressing issues for journalism in its transition to the digital media ecosystem. Past topics include: multimedia storytelling; the impact of artificial intelligence on journalism; new business models and sustainability;  reinventing online political coverage; combating misinformation in the media landscape; and diversity in the news. 
After the extraordinary success of ISOJ 2020 and ISOJ 2021, which were held online-only, the team at the Knight Center is planning a strong, innovative, and interactive online component of ISOJ 2022. The groundbreaking hybrid approach will return ISOJ to Austin, Texas, a growing hub of innovation, while incorporating the success of the previous two years online when ISOJ was able to reach the journalism community in 154 countries and bring in speakers from around the world. The goal is that the hybrid model will create space for innovation within traditional conference programming.
"It was important to us to build upon the accessibility we could offer through the online iterations of ISOJ while returning to our roots in Austin and continuing our work as the international journalism community's groundbreaking symposium," said Rosental C. Alves, the director of Knight Center. "We are excited to spotlight a diverse group of experts who have redefined the landscape of digital journalism."
Keynotes for ISOJ 2022 include: Gina Chua, executive editor at Reuters; Richard Gingras, global vice president of news at Google; Katrice Hardy, executive editor at the Dallas Morning News; and Jorge Ramos, news anchor at Univision Noticias.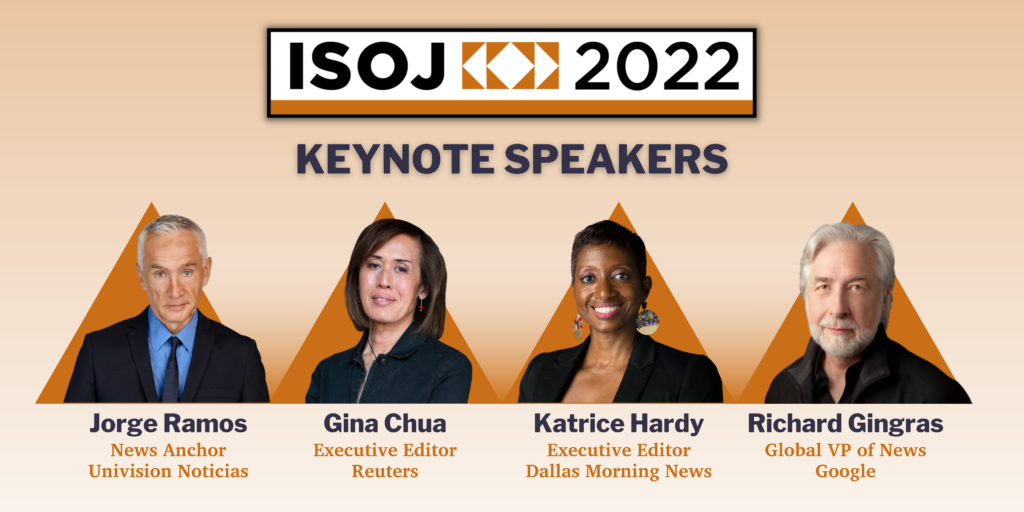 This year's program also features additional speakers and panelists including:
Emily Bell

, professor & director of the Tow Center for Digital Journalism, Columbia Journalism School

Jay Bernhardt

, dean, Moody College of Communication, University of Texas at Austin

Jim Brady

, vice president of journalism, Knight Foundation

Maria Bustillos

, editor-in-chief, Popula.com 

Rosental Calmon Alves

, ISOJ founder and chair, School of Journalism, University of Texas at Austin

Tamar Charney

,  Consulting Senior Supervising Producer, NPR 

Ken Doctor

, CEO & founder, Lookout Santa Cruz

Borja Echevarría

, managing editor, El País (Spain) 

Avery Holton

, associate professor and chair, Department of Communication, University of Utah 

Mukhtar Ibrahim

,  founder and executive director, Sahan Journal 

Kathleen McElroy

, director, School of Journalism & Media, University of Texas at Austin

Imtiaz Patel

, CEO, The Venetoulis Institute for Local Journalism/The Baltimore Banner

Anya Schiffrin

, director of technology, media & communication specialization, Columbia University

Amy Schmitz Weiss

, ISOJ research chair, San Diego State University

David Skok

, CEO and editor-in-chief, The Logic (Canada) 

Evan Smith

, co-founder and CEO, The Texas Tribune

Ray Soto

, senior director, emerging tech, Gannett, USA Today Network

Ann Stern

, president and CEO, Houston Endowment 

Sarah Stonbely

, research director, Center for Cooperative Media at Montclair State University 

Mallary Tenore

, associate director, Knight Center for Journalism in the Americas

Steven Waldman,

president and co-founder, Report for America

Nykia Wright

, president and CEO, Chicago Sun-Times

More to be announced!
The full program and the opening of registration will be announced soon. For updates and additional information pertaining to ISOJ 2022, please visit ISOJ's website, Twitter, Facebook, LinkedIn or subscribe to the mailing list by emailing isoj@austin.utexas.edu. For more information regarding previous years at ISOJ, visit ISOJ.org where there are videos, transcripts, presentations, news articles, journals, research papers, and much more from all symposia dating back to 1999.