ISOJ calls journalism researchers to submit papers for 2018 global conference and special journal edition
The submission deadline for papers has been extended to Sept. 22, 2017.
The International Symposium on Online Journalism (ISOJ) has a special call for papers for the 2018 #ISOJ Journal, which will feature original research about how journalists view their profession and their role during a time of incredible change in the industry.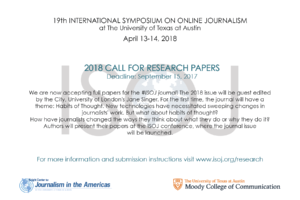 For the first time, Volume 8 of the #ISOJ Journal will feature a special theme, "Habits of Thought," which will be guest edited by Jane B. Singer, director of research and professor of journalism innovation at City, University of London.
"The contemporary news environment is perpetually tumultuous, and journalism as an occupation faces unprecedented, even existential, challenges," Singer told the Knight Center. "We need more, and more nuanced knowledge about how journalists think about Big Picture issues including but not limited to their role in democratic society; their foundational norms; and their rights and responsibilities in relation to audiences, sources and colleagues, among other constituents."
According to Singer, although scholars and practitioners are well-versed in how journalists are responding to technological changes, not much is known about how journalists think of their role and motivations.
In considering how this research might be useful for journalism educators, Singer noted that, in the classroom, career training generally receives more attention than creative thinking. The professor hopes the research from this journal will help to generate conversation on how to prepare journalists with greater critical thinking skills who can respond creatively to "real and compelling challenges" in the newsroom.
"As ISOJ is a conference that is always evolving and on the cutting-edge, we also wanted to move our research component of the conference in this direction, too," said Amy Schmitz Weiss, research chair of ISOJ. "We are excited to be able to launch this guest-edited and special journal theme for 2018 and have it become part of the ISOJ tradition."
"Jane Singer is an amazing scholar and her special theme for the 2018 journal represents what ISOJ is – looking at the present and future of where digital journalism is heading. We are excited to see the research that is submitted for this guest-edited issue," Schmitz Weiss explained.
Jane Singer, professor at City University London, speaks at the 2014 ISOJ on the UT-Austin campus. (Lauren Schneider/Knight Center)
Singer, a journalist herself, was an early researcher of how journalists respond to digital technologies. She has her PhD in Journalism from one of the country's preeminent journalism schools, University of Missouri-Columbia, and has had academic appointments at the University of Central Lancashire in the UK, as well as the University of Iowa and Colorado State University.
"One of the reasons ISOJ stands out among all journalism conferences as a unique gathering is this mix of world class professional panels and keynotes, and relevant research on the evolution of journalism as we adapt to the digital revolution," said professor Rosental Alves, founder and director of ISOJ. "We are thrilled that one of the best scholars in the world in this field, Dr. Jane Singer, director of research in journalism innovation at City, University of London, has accepted our invitation to be the first guest editor of the #ISOJ Journal."
"Before earning her PhD at Missouri, Dr. Singer was a journalist and a pioneer in online journalism. It's great that someone who was there, in the trenches of the adaptation of journalism to the Internet, 30 years ago, is now leading this special issue of ISOJ journal, which is dedicated to the changes in the newsroom and in how journalists see their profession," Alves added.
The deadline to submit papers is earlier than in previous years. Remember to send yours by Sept. 22, 2017. For more information on manuscript guidelines and how to submit, please check the ISOJ website. For those whose papers are accepted for ISOJ, the authors will receive free registration to the conference.

As part of the selection process, papers will undergo a blind review process. Singer said she is looking for "strong empirical work" that answers questions like "how do [journalists" think about 'truth?', 'What effect do they think the fragmentation of democratic society has on journalism?, "What does objectivity really mean to them in the contemporary media environment?"
"Mostly, I'm interested in work that seeks to explore below the surface level of journalists' adaptation to technological change to look at what's happening inside all those clever heads in our contemporary newsrooms," Singer said.
The #ISOJ Journal will be published during the next ISOJ Symposium at the University of Texas at Austin in April 2018, where authors will present their work. The journal was launched in Spring 2011 at the 12th ISOJ, seven years after a research component was added to the conference. Previous copies of the journal are available at http://isoj.org/research/.