ISOJ Celebrates a Successful New Hybrid Model and Announces Dates for 2023 Conference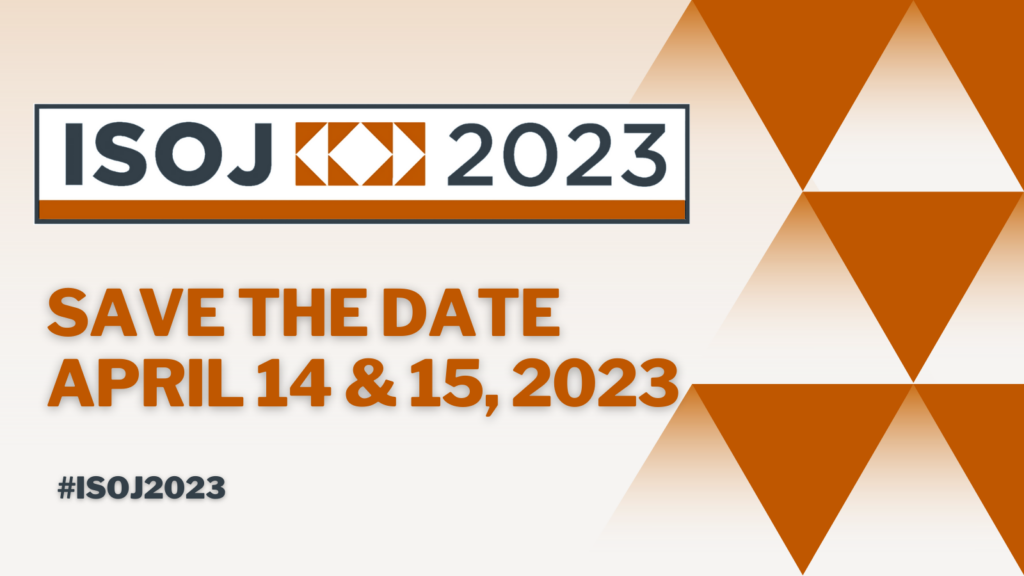 Mire abajo para ver la traducción en español
(Austin, TX) – The Knight Center for Journalism in the Americas announces the dates for next year's 24th International Symposium on Online Journalism (ISOJ) as April 14 – 15, 2023.
After notable success with the 2020 and 2021 online-only formatting of ISOJ, the Knight Center took on a new challenge by producing ISOJ 2022 in an innovative hybrid format that connected journalists, media executives and journalism professors and students from over 80 countries.
For more than 20 years, ISOJ has been streamed live on the web, and all the videos of all symposia, since 1999, are available online. However, the hybrid model developed for the 2022 conference went beyond the web streaming, adding other ways to enhance remote participation.
Two examples of those enhancements: Virtual attendees were invited to have direct conversations with selected speakers, in small group video calls; and a video feed showed the virtual attendees the welcome party in Austin. They were also able to have their own party online simultaneously, using a software that allowed them to mingle (similar to the in-person party), introduce themselves to one another, and start video conversations in small groups.
"We are very happy with the results of ISOJ 2022, with its hybrid-mode experimentations, and we can't wait to introduce more innovative ways for remote participation in April of 2023," said professor Rosental Alves, founder of ISOJ and the Knight Center. "Yes, in-person conferences are great, especially because of the networking, the opportunity to interact with speakers and other attendees. But there are new ways to allow active participation of remote attendees, and we will continue to work on this innovative, pioneering hybrid model."
ISOJ 2022 had 1,227 participants, 296 in person and 931 online. With topics ranging from how metaverse and web3 will affect journalism to audio storytelling, diversity in the newsrooms, mental health and wellbeing of journalists, the growth of nonprofit journalism in the U.S., and the attacks to press freedom around the world, ISOJ 2022 was met with high praise and intense engagement.
Twitter was flooded with comments, questions, and retweets using the #ISOJ2022 hashtag. With voices like Jorge Ramos, who discussed how journalism is not a profession for people who want to be silent; to María Lilly Delgado, a Nicaraguan journalist working in exile whose talk sparked a standing ovation with her words of courage addressing the persecution of journalists around the world.
The photo galleries and News Section of ISOJ.org provide more highlights of the event as well as further in-depth coverage on the topics discussed. The Knight Center for Journalism in the Americas is now giving access to the public to watch all sessions from ISOJ 2022. The videos are available on the ISOJ 2022 archive page, edited session-by-session, and also in YouTube, unedited playlists: the original versions in English and with simultaneous interpretation in Spanish.
More information about registration and panels for ISOJ 2023 will be released soon.
ISOJ celebra el éxito de su nuevo modelo híbrido y anuncia las fechas de la conferencia de 2023
(Austin, TX) – El Centro Knight para el Periodismo en las Américas anuncia las fechas para el 24º Simposio Internacional de Periodismo Online (ISOJ) del próximo año: 14 y 15 de abril de 2023.
Después de un notable éxito con el formato de ISOJ 2020 y 2021, exclusivamente en línea, el Centro Knight asumió un nuevo reto al producir ISOJ 2022 en un innovador formato híbrido que conectó a periodistas, ejecutivos de medios de comunicación y profesores y estudiantes de periodismo de más de 80 países.
Durante más de 20 años, ISOJ se ha transmitido en directo a través de internet, y todos los videos de todos los simposios, desde 1999, están disponibles en línea. Sin embargo, el modelo híbrido desarrollado para la conferencia de 2022 fue más allá de la transmisión por internet, añadiendo otras formas de potenciar la participación a distancia.
Dos ejemplos de esas mejoras: los asistentes virtuales fueron invitados a mantener conversaciones directas con determinados oradores en videollamadas de grupos pequeños; y una transmisión de video mostró a los asistentes virtuales la fiesta de bienvenida en Austin. También pudieron celebrar su propia fiesta en línea de forma simultánea, utilizando un programa informático que les permitía mezclarse (de forma similar a la fiesta presencial), presentarse unos a otros e iniciar conversaciones por video en grupos reducidos.
"Estamos muy contentos con los resultados del ISOJ 2022, con sus experimentaciones en modo híbrido, y no podemos esperar a introducir más formas innovadoras de participación a distancia en abril de 2023", dijo el profesor Rosental Alves, fundador del ISOJ y del Centro Knight. "Sí, las conferencias presenciales son estupendas, sobre todo por la creación de conexiones, la oportunidad de interactuar con los oradores y otros asistentes. Pero hay nuevas formas de permitir la participación activa de los asistentes a distancia, y seguiremos trabajando en este modelo híbrido innovador y pionero".
El ISOJ 2022 contó con 1.227 participantes, 296 presenciales y 931 online. Con temas desde cómo el metaverso y la web3 afectarán al periodismo hasta la narración de audio, la diversidad en las redacciones, la salud mental y el bienestar de los periodistas, el crecimiento del periodismo sin ánimo de lucro en Estados Unidos y los ataques a la libertad de prensa en todo el mundo, el ISOJ 2022 fue recibido con grandes elogios y una intensa participación.
Twitter se inundó de comentarios, preguntas y retweets con la etiqueta #ISOJ2022. Se replicaron voces como la de Jorge Ramos, que habló de cómo el periodismo no es una profesión para gente que quiere callar; o la de María Lilly Delgado, una periodista nicaragüense que trabaja en el exilio y cuya charla provocó una gran ovación con sus palabras de valentía sobre la persecución de periodistas en todo el mundo.
Las galerías de fotos y la sección de noticias de ISOJ.org ofrecen más aspectos destacados del evento, así como una mayor cobertura en profundidad de los temas tratados. El Centro Knight para el Periodismo en las Américas está dando acceso al público para ver todas las sesiones del ISOJ 2022. Los videos están disponibles en la página de archivos del ISOJ 2022, editados sesión por sesión, y también en YouTube, listas de reproducción sin editar: las versiones originales en inglés y con interpretación simultánea en español.
En próximas fechas se publicará más información sobre la inscripción y los paneles del ISOJ 2023.