ISOJ 2020 panelists to explain how news organizations can embrace product management practices
UPDATED: This story was modified to reflect the changes from the in-person conference in Austin to ISOJ Online
When Professor Cindy Royal interviewed innovators and early adopters of digital product management in journalism in 2016, her selection pool was noticeably smaller than it is today.
"The practice of product management in media organizations has grown by leaps and bounds in the past few years. In 2016, I interviewed 14 people about product management roles and felt like I had a good sample of the community," said Royal, director of the Media Innovation Lab at Texas State University. "At the recent SRCCON Product conference in Philadelphia, there were more than 150 people interested in product concepts."
She and a panel of experts will discuss this growing field and why news organizations should pay attention at the 21st International Symposium on Online Journalism (ISOJ), which for the first time will be an online-only conference, from July 20 — 24.
The panel, "Product Management: How news organizations can become more audience-oriented, data-driven and product-focused," will be on Thursday from 4:00 p.m. — 5:15 p.m. (U.S. Central Time).
"Media organizations realize that managing multiple digital products – websites, content management systems, podcasts, newsletters, bots, mobile apps and events with their own digital/social footprints – is central to their mission and understanding users' needs is critical to developing products that provide value," Royal said. "Some stories, or editorial products, can benefit from product thinking when they have advanced digital, multimedia, interactive or data features."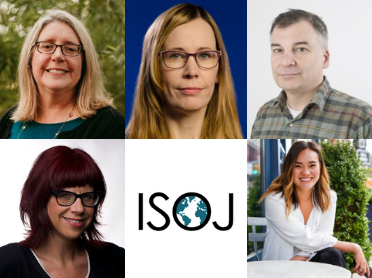 Joining Royal will be panelists Deb Adeogba, senior manager, Media Experience at Microsoft News; Aron Pilhofer, James B. Steele Chair in Journalism Innovation at Temple University and director of News Catalyst; Millie Tran, chief product officer at Texas Tribune; and Kim Fox, product director of editorial innovation at the Philadelphia Inquirer.
Adeogba has been in the tech industry since 2018 as a senior media experience manager at Microsoft News Labs since 2018. Prior to that, she was director of technology at KIRO-TV and assistant chief engineer at KOB-TV. She is a 2018 recipient of the TVNewscheck Women to Watch in Technology award at the National Association of Broadcasters.
Pilhofer, who focuses on new business models, digital transformation and innovation in news, came to academia from the professional journalism world. He is director of News Catalyst, which helps with digital news organization sustainability. He was executive editor, digital and interim chief digital officer at The Guardian in London and associate managing editor for digital strategy and editor of interactive news at The New York Times.
Ishmael has spent her career at the intersection of media and technology. She was managing editor of mobile news at BuzzFeed, vice-president for communities at the Financial Times, senior editor at Apple and product manager at Percolate. She was also a 2016-17 John S. Knight Journalism Fellow at Stanford and is on the board of the Craig Newmark Graduate School of Journalism at CUNY.
Fox, product director of editorial innovation at the Philadelphia Inquirer, was previously managing editor for audience at the publication. Also in the journalism world, she previously was an editor at Bloomberg News, head of audience for CBS Local Digital and cross-platform social media producer and social media reporter for CBC News Network. She was also content director of startup ScribbleLive.
The panelists will look at why newsrooms should invest in product management practices.
"Product management requires a different skill set than reporting and editing. It requires a professional who can work at the intersection of users, technology and business. It needs people who can collaborate across resources and link to an organization's mission and strategy," Royal said. "Media organizations must make the transition to product concepts to be able to create products that users will value with their attention and dollars. We are starting to see local journalism organizations embracing product roles to better understand and meet the needs of their communities."
Registration is now open for ISOJ Online..
ISOJ is organized by the Knight Center for Journalism in the Americas, which is part of the University of Texas at Austin's Moody College of Communication.