Journalism's New Age is All About You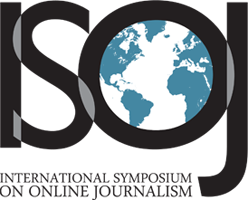 As new technology changes the face of journalism and creates new opportunities for reader input, industry innovators and leaders like Jan Schaffer, founder of the J-lab at the University of Maryland, are fascinated by the possibilities.
Schaffer spoke during the 8th International Symposium on Online Journalism Friday afternoon dealing with the incorporation of citizens into the news gathering process and enhancing the dialogue between readers and reporters.
"People want to be able to contribute in some way," said Schaffer, who focused on hyper-local journalism.  She says citizen media links standard news with citizen participation.
Each of the four panelists represented a different type of citizen input, a testament to the multifaceted nature of the topic. While the panelists represented diverse uses of citizen journalism, they all agree that the focus of the journalism in the new age is on the reader.
Schaffer's enthusiasm for hyper-local journalism was echoed by Kyle Poplin, executive editor of Bluffton Today.  The newspaper which he described as "short, pithy, and fun," focuses on a small community in southern South Carolina.
Bluffton Today works on a unique model, where the online content is far from the "shovelware" of most online news sites.  The newspaper is delivered to all readers for free, and each user is provided with a free blog.  The print publication is often influenced by reader blogs from the online site, some of which are printed in the next day's paper.
Poplin feels the Bluffton's model is significant because of its ability to be deeply involved with the community and "take the readers seriously" by enforicing minimal editing on user blogs.
Dean Betz, the online news editor of the Houston Chronicle, thinks reader blogs are a way to bridge the gap between reporters and readers.
"It's not about us, it's about the readers network," Betz said.
Lisa Stone, co-creator of BlogHer, a site that showcases a network of female bloggers, said it's the journalist's job to find out what the readers want.  BlogHer was founded to cater to an ignored audience of female bloggers and now features 8,000 blogs.
Kate Marymont, executive editor of The News-Press of Fort Myers, Fla., agrees with the importance of letting users converse without direct interference.  She emphasized how "crowd sourcing" -a collective form of reporting-can be used to enhance the watchdog role of journalism.  The online-publication used crowd sourcing to help in the investigation of a double murder by gaining tips and input directly from the online readers.
"Readers are wanting to participate," Marymont said.  "We have to open the door."
ISOJ 2007: The Transformation of Journalism from Monologue to Conversation, from Knight Center on Vimeo.