MoJo Has a New Meaning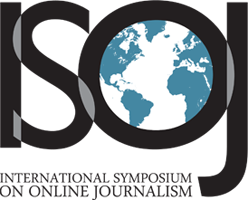 During the fourth panel of the International Symposium on Online Journalism on Friday, journalists focused on the hot topic of citizen journalism.
Kate Marymont, Executive Editor of The News-Press in Fort Myers, Fla., started the panel off by offering a new meaning for an old word: MoJo, or mobile journalism as she defines it. Reporters from her paper now work out of their cars, using on-the-go mojo kits to update their website with the most current news.
Other panelists described their own experiences with community journalism trends.
Kyle Poplin, Executive Editor of Bluffton Today, says his paper survives on contributions from citizen journalists. Every household in the community of  Bluffton, S.C., receives a free newspaper daily and is asked to voice their opinion on the paper's Website.
A community in conversation with itself was the title of Poplin's Power Point presentation which covered the unconventional methods by which Bluffton Today thrives. One main component: a hyperlocal focus, where bloggers write in to discuss local topics such as potholes, traffic, and dogs, and to share pictures.
Celebrating their two year anniversary next week, Bluffton Today also has a "blog for old people" as Poplin called it. An anonymous phone call, allows less technically-inclined readers to voice their opinion in a section of the paper called VOX.
Poplin said that by putting people's contributions into the paper, it proves to the readers that they are taken seriously, even if the topic is not. Less than serious topics like noisy wind chimes at retirement homes and numerous puppy tales have give the paper the nickname, Fluffton Today, Poplin said.
Fluffy or not, papers like Bluffton Today and News-Press have reinvented the way people read the paper. Citizen journalism, mobile journalism and hyper-localism allow ordinary readers to become extraordinary citizens.
But reporters' jobs are safe, Poplin said. He described a new position at his paper, a "blog wrangler," who helps bloggers set the tone and stay on track.
ISOJ 2007: The Transformation of Journalism from Monologue to Conversation, from Knight Center on Vimeo.