Journalists and the Mobile Revolution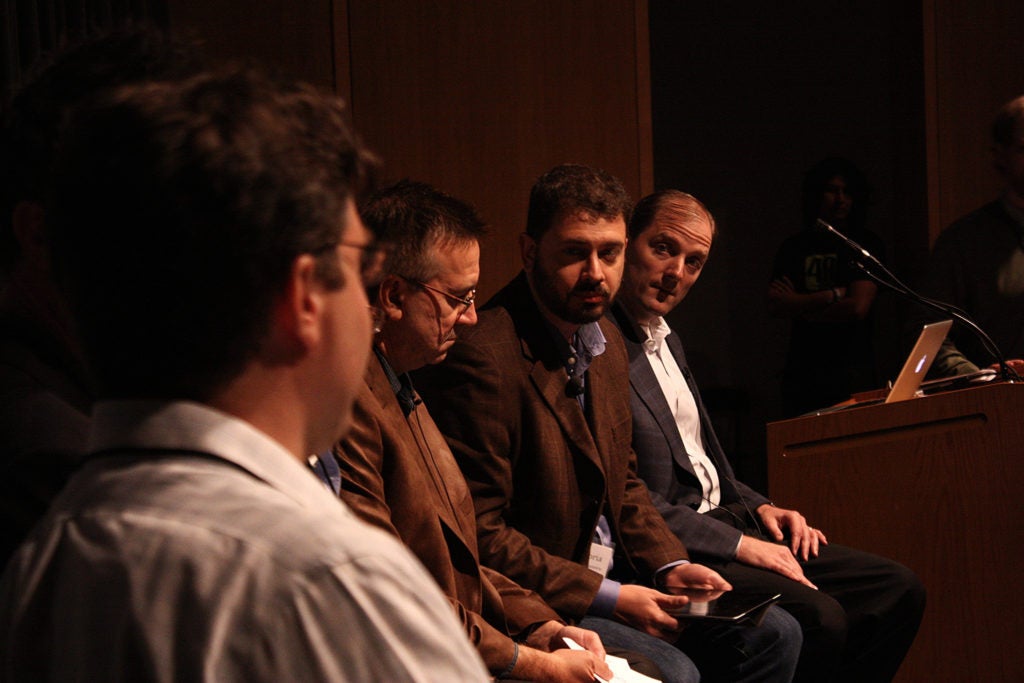 Pedro Doria, digital platforms editor at O Globo newspaper, Rio de Janeiro, Brazil
"Pictures are cheap but look expensive," Steve Jobs said of the iPad.
Doria said O Globo uses this approach in its tablet application with many stories, including a visual piece in which photographers took photos of the landscapes from historical paintings.
Before Carnival, Doria said O Globo featured a Samba teacher whose dance moves were captured through video so users could freeze her and learn the motions.
People used to spend "26 minutes everyday" with O Globo. "That's not bad," Doria said, but with the tablet application he said the users spent "1 hour 17 minutes interacting with the app everyday."
Harry Dugmore, professor at Rhodes University, Grahamstown, South Africa
Four hundred and fifty million mobile phones are in Africa, Dugmore said.
A dramatic number of democracies sprung up after the fall of the Berlin Wall and the end of apartheid, but six of the seven democracies have recently been downgraded, Dugmore said.
Dugmore said interactive journalism has challenges not seen in other areas of the world.
"African countries are very different from one another," Dugmore said. "We've got to catch up as journalists, but it's different."
He said since 1994 most African technology has had small screens, slow speeds and sky-high subscriptions with handset prices.
"Africans have been amazingly innovative getting headlines out," Dugmore said.
It is a revolutionary tool, but you have to enable the social and political environment.
Dugmore said African elites are the ones getting the powerful tools in their hands and regular citizens do not have the same access to technologies like tablets.
However, he said this does not mean all the power is left to a single few. In the uprisings in Egypt, the government constricted the people by shutting down the Internet and their online communication.
"If your government tries to shut down your Internet, shut down your government," Dugmore said.
Blake Eskin, former web editor, The New Yorker
Eskin served at The New Yorker's first web editor in 2006.
He said it's worth noting the differences between the "old school" New Yorker versus the Web:
– The New Yorker: authoritative, focused, high quality, polished, weekly, finished, one-way, costs money
– Web: democratic, distracted, high quantity, high speed, constant, mutable, two-way, free
Eskin said The New Yorker is not just a news publication, he said the mobile New Yorker app allows users to quickly consume and share news.
"It's an information package and an experience," Eskin said. "It's not necessarily something you curl up with."
Eskin said the Web and these apps are on a collision course.
"The mobile phone, the tablet help that and I hope makes reading better for people in the future," Eskin said.
Louis Gump, vice president, CNN Mobile
The digital revolution is one of many evolutions in journalism since the printing press, Gump said.
"For about 570 years there have been various stages of journalism evolution," Gump said.
CNN Mobile includes a portfolio of apps to reach the most users. Gump said the changing landscape is an opportunity for the journalism industry to grow.
"A lot of it is a collective effort as we learn from each other," Gump said. "When the news about Whitney Houston broke, we realized that people wanted to engage with photos so we built a photo gallery."
Gump said CNN created different sections in their iPad app so there is standard coverage, such as South By Southwest, and features that include stories by CNN anchor Anderson Cooper.
"Our iPad app is something we put a lot of work into," Gump said.
He described the topics within CNN's applications as "very productive sandboxes."
Mobile Web and apps are like the two wheels on a bicycle, Gump said —you need both to run adequately.
Gump said there are five imperatives for mobile success.
– Nurture a first-rate mobile Web site
– Position core apps strategically
– Select and align dedicated mobile professionals
– Harmonize experiences across platforms
– Assume first that mobile is different, then tap platform similarities
We need to empower internal editorial champions to get support for online initiatives, Gump said.
JV Rufino, head of Inquirer Mobile, Inquirer.net, Manila, Philippines
Most people have two or three mobile phones in Manila, Rufino said.
Rufino said Filipino politicians even have four mobile phones. He said politicians have one for the office, one as a public phone for news stations, one for family and personal matters and the other for the "No. 2."
"If you really want to mess with him switch the SIM [cards]," Rufino said.
The Philippines has a larger television market than print or online news audiences, but Rufino said that is not necessarily a downfall for the Inquirer.
"We are an agenda-setting news group in the Philippines," Rufino said.
Rufino said as a journalist, his job is to track down government documents since there is no freedom of information act in the Philippines.
Internally, Rufino said the Philippine's print business is "chugging along," but he can see people going to other platforms.
Rufino said the Inquirer focuses on publishing practical news like gas prices and the Inquirer's Kindle edition is for the large audience outside of the Philippines that help keep the economy afloat.
Whurley (William Hurley), co-founder Chaotic Moon, GM Chaotic Moon Labs
"I don't do slides," Hurley said. "I'm going to crowd source the slides."
Journalists threw their questions at Hurley about technology and the future of journalism, so he built his slideshow to the audiences' interests. The act was a witty point about altering news production for the user.
Under Hurley, Chaotic Moon worked on The Daily, an iPad tabloid that launched in February 2011.
"No one wants to be the first. People have a herd-like mentality," Hurley said.
This mentality gave Chaotic Moon the opportunity to dive into the big project since more established companies did not want to jump in and get criticism for their product.
Hurley said Facebook does not have a good user experience applications because it's delayed by downloading all of the information from the Internet.
He said apps should instead prioritize the downloading process so some pictures might be missing, but the skeleton is downloaded first and users can quickly interact with the app.
One issue Hurley said that is specific to journalists is the use of shorter words to reach a mass audience. He said important words are getting lost in the process and suggested a tiered approach to journalism.
ISOJ 2012: Mobile Revolution Q&A during the 13th Online Symposium on Online Journalism from Knight Center on Vimeo.