KEYNOTE ADDRESS: Newspapers are dying, is technology ready to shoulder the load?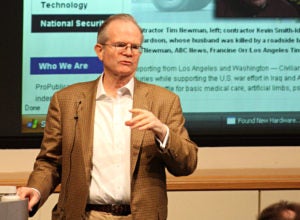 We've heard it before, but it always bears repeating: we're in an evolving era when it comes to journalism. 2009 keynote speaker Paul Steiger told ISOJ attendees just that, and outline three key points about the state of the profession:1. The future of newspapers is terrible
Most know the stories, but the Rocky Mountain News is the de facto example to this point. Newspapers are dying and on their way out."As bad as it looks though, the New York Times, Wall Street Journal, etc. will continue to do journalism and adapt to the new online environments," Steiger said. "The web is a superior medium for delivering news and vastly improves the possibility for people communicating and enhances the development of the story. But the destruction of newspapers and the newspaper business model is hurting society."
The large newspaper covering everything is no longer the norm, and will no longer be, Steiger said.
"The archetype of the quality press was the metropolitan newspaper. It was broad in scope, a department store of journalism with its shelved stocked with a wide range of goods. At its best, this newspaper had a local monopoly that allowed it to do everything well. Stripped of much of their resources, many of their functions are being stripped away from these supermarkets. "
2. The future of journalism is good
"The successor to [the dying metropolitan papers] will include and even be led by 'boutique publishers.' Narrowcasting will prove quicker and help adapt to changing business conditions. It's easier to raise $10 million than it is to cover the $200 million that is just the news content of the New York Times," Steiger said.
Steiger specifically mentioned universities as a flourishing locale for journalism.
"At various universities, I'm seeing that journalism can be done within the context of a university," he said. "There are teaching hospitals and business consultants and so on. You can teach performance and skills that don't run you afoul of those who want to make sure everything is academically focused. They can generate an opportunity to do investigative journalism which is very exciting. "
See UT's journalistic endeavors here.
3. The future for journalists is mixed
"For young people and those who are easily adaptable, it's as exciting a time as I can imagine," Steiger said. "But for many talented and brilliant people, it's not. The over-50 crowd, people who should be at the peak of their earning power, are instead at risk of losing their jobs."
In contrast to much of the news and opinion sharing we've heard over time, Steiger is hopeful. And for journalists, that's wonderful to hear.
"There may not be thousands of flowers blooming, but there are scores. There is still hope, even in this recession. There are two sides, opportunity and terror. May this conference place you firmly on the opportunity side."
Steiger is currently the Editor-in-Chief, President and Chief Executive of ProPublica.
ISOJ 2009: Paul Steiger Keynote, from Knight Center on Vimeo.