Steve Outing warns journalists of charging for online content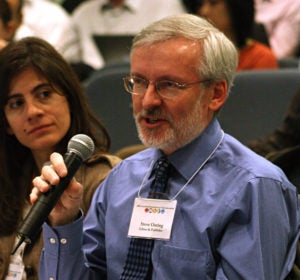 Steve Outing, columnist for Editor & Publisher, told a packed room of media professionals and students Friday that the news industry needs to think outside the box. Outing kicked off the first panel at the 10th International Symposium on Online Journalism with a presentation called "Diverse Business Models in Online Journalism: Are we trying hard enough?" His answer was a resounding no.
"Personally, I'm a little bit concerned about what's been happening," he said.
Many news organizations have been toying with the idea of charging for content, but Outing warned that paid content won't work except for niche publications like the Wall Street Journal.
He mentioned the new company Journalism online, which will set up paid content models for news providers.
"The idea is setting up a technology system to make it easy for news publishers to charge for their content," he said. "If you look back in history, there are many examples of trying to charge for online content — It's tough."
He said news organizations need to become "digital-centric." Elaborating, he said digital content needs to be at the center of the organization, even though that's not the biggest revenue yet.
"You have to go where the puck is going, not where the puck is," Outing said, quoting Wayne Gretzki.
Getting content everywhere remains the biggest key to the digital age. He explained paid content limits your reach. Outing did note that charging for content works on handheld devices like the Kindle, and iPhones. He said the charging on the Kindle and iPhone differs because it is convenient, users click and are instantly charged on their account.
But on the web its difficult to pay for content because its not so convenient, Outing said.
"People don't want to jump over barriers when your bouncing around the web," he said.
He said the most innovation will be seen in the successors to newspapers.
A group of 30 laid off employees founded InDenverTimes. They want to charge $4.99/month to get a certain level of premium content.
"Not a model I think will particularly work," Outing said.
But he was interested in one detail of the company. As part of the $5 fee, readers get the right to talk to the reporters.
"That's the kind of innovation that's really fun to see," he said.
ISOJ 2009: Diverse Business Models panel, from Knight Center on Vimeo.