Keynote panel opens ISOJ 2018 by discussing newspapers in a post-advertising era
Watch video from the panel discussion about newspapers in a post-advertising era, from ISOJ 2018.
When Jim Moroney, the chairman, president and CEO of A. H. Belo Corporation, asked the audience at the 19th International Symposium on Online Journalism (ISOJ) if anyone is paying for their local journalism through digital advertising, nobody raised their hands.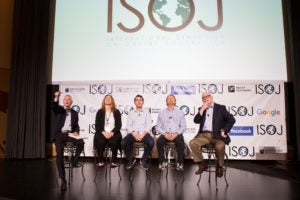 In the journalism world, advertising has become an increasingly relevant topic in recent years as media companies analyze the best methods to generate revenue. Moroney, the chair of the keynote panel "Newspapers in a post-advertising era" emphasized that advertising is not driving growth in local media companies.
"It's not that advertising is bad," Moroney said. "It's just never going to be sufficient."
With companies such as Google, Facebook and Amazon taking a big share of advertising, Moroney encouraged publications to explore new avenues. For the first panel of ISOJ 2018, He was joined by four prominent media leaders who further discussed the hot-button topic and shared insight on methods that can help local media companies generate profits.
Sara Glines, the president and publisher of The News & Observer in Raleigh, NC, said that readers are the key to success for local media companies. Because of this, Glines stressed the importance of giving journalists a seat at the table when making decisions regarding the type of content produced.
Glines presented a readership experience model and described how the goal for newsrooms should be to move the reader from the "awareness of news" to the "advocacy of news" stage. When the audience begins to recommend the news to others and supports a media company, it increases engagement and digital subscriptions.
Data can aid in the understanding of how audiences connect with content thus allowing journalists to get an idea of stories to pursue.
"When you start looking at data analytics and you start talking about how a story connects with an audience and start asking journalists to think about that and focus their attentions based on that information," Glines said. "Now it's marketing."
This method can aid in increasing revenue. However, for smaller media companies who cannot hire data scientists, there may be a risk of the community becoming a news desert. While data can offer a clear insight into engagement, Glines emphasized the importance of simply knowing one's audience to know whether a story a journalist pitches will actually appeal to them.
David Perpich, the president and general manager of Wirecutter, a New York Times Company, stands behind reader support but also believes revenue can be generated through marketing.
"I think that subscription revenue and reader revenue is the foundation for the news business moving forward," Perpich said. "But I also don't think it's the only revenue stream."
Perpich said that media companies should understand what readers and marketers value and focus on creating journalism experiences that incorporate both.
Both Jim Friedlich, the executive director and CEO of the Lenfest Institute for Journalism, and Earl Wilkinson, the executive director and CEO of International News Media Association, agree that community support and new marketing methods are integral to newsroom success and offered positive examples of it working.
According to Friedlich, studies have found that people are spending more money on media and entertainment, including, but not limited to newspaper subscriptions, streaming services and more. Consumer share is up 25 percent from 2000.
The Voice of San Diego, an award-winning nonprofit news organization, is an example of a media company using an effective new approach to appeal to their users, according to Friedlich. The method, the news revenue hub, does not put a price on their reporting, but rather asks their readers to pay whatever they believed was fair to become members of the publication. By doing so, they have raised over $1 million a year and have helped hundreds of publications across the country do the same.
"I think that digital subscriptions is more about marketing 101 and journalism 101," Wilkinson said. "I think that digital subscriptions are at minimum a foundation for a larger stack, at maximum a bigger membership play… I think culture is a central part of this story as is engagement."
For 19 years, ISOJ has brought media executives, journalists and academics to Austin, Texas for a discussion on the present and future of online journalism. The conference continues tomorrow, April 14.
Live streaming is available in English and Spanish at https://isoj.org/. Raw video of Friday's panels is available on YouTube. To view the morning sessions (including the keynote panel), click here. To view the afternoon sessions, click here.