New media outlet focused on Washington politics, Punchbowl news achieves more than US$ 1 million in subscriptions in only four months
Anna Palmer and Jake Sherman talked about the success of their recently created enterprise, a membership-based news community called Punchbowl News, during the first panel discussion of the third day of the International Symposium of Online Journalism (ISOJ). 
Punchbowl News has a daily podcast, a free morning newsletter and a premium membership program, that include exclusive products and services. In only four months, Punchbowl News was able to reach more than US$ 1 million in subscription business, as Palmer revealed during the panel.
Palmer and Sherman launched Punchbowl News on Jan. 3, right after leaving their jobs at POLITICO on Dec. 31. They felt it was important for the audience that they maintain a constant presence and not have a gap between the two projects. Both recognized they had built upon their experience with POLITICO and decades of reporting in terms of creating a brand for themselves, gaining the trust of sources, as well as the audience. They also had a newsletter for years as part of the top-rated POLITICO Playbook franchise.
"[We] took that the next day and said: 'hey, we're still here and actually what we're going to do is create a product that's even more us. Because we started from scratch [with Punchbowl News], you have to remember: we took over a product that was 10 years old, it had a lot of constraints that were already built into it," Palmer said during the keynote session.
Evan Smith, CEO & co-founder of The Texas Tribune who chaired the session, asked Palmer and Sherman if there weren't already enough newsletters crowding everyone's emails and what they had to offer that was different from similar products.
"The problem we were trying to solve was that we were trying to take an even more specific and intense take and lens on the politics of governing specifically and the leaders of Washington, both on Capitol Hill and in the White House. We are not looking to be something for everybody, that's not what our goal is," Sherman answered.
He also said they were in a good position, due to their extensive experience as political reporters on the field, to "understand how those wheels turn, and how an idea or a bill becomes law or how power is exercised," and that they could explain that to their audience.
"The question that I asked myself was: Is anybody looking for another newsletter to start their day? I think we provide, basically, context to anybody who touches government or whose business is government or for the people who are actually in government. I think what we are solving for, truly, is one best in class content around that North Star, which is power, people, politics, but then the concentric circles that are going kind of beyond that," Palmer said.
Sherman also added that Punchbowl News wanted to be "the authoritative source on power, people and politics in Washington." While Palmer stressed that their goal is also to be indispensable for their audience.
"I really do think we are able to connect dots and also forecast for people what's happening in the Capitol and the White House, in a way that just general assignment news organizations don't do, they almost cover the Capitol like if it's a foreign bureau. They have a couple of folks that are there, they are covering the big stories of the day. We are going a lot deeper," she said.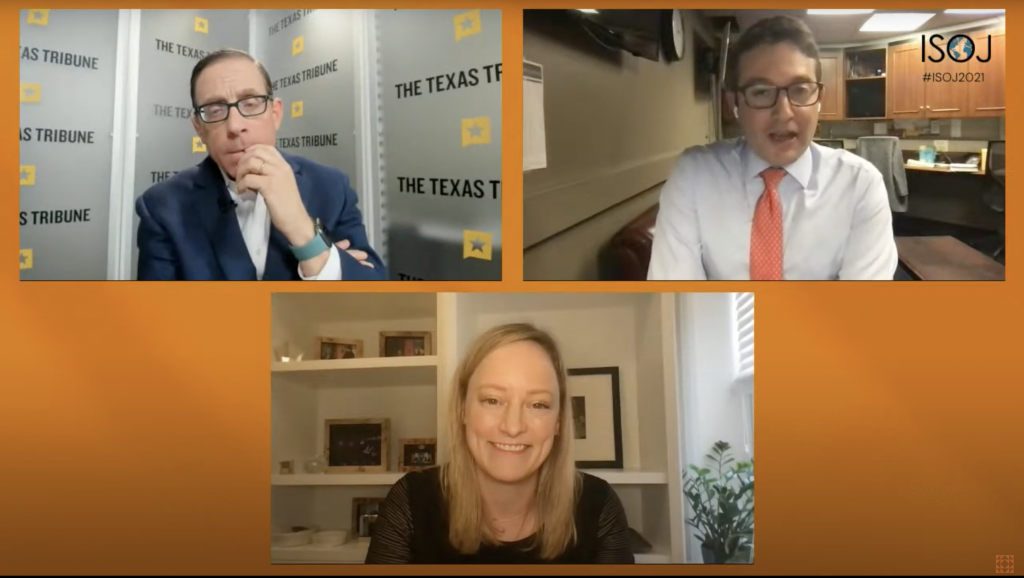 Smith agreed that being able to forecast political events is its strong asset. "It's not just that you are telling people what happened, but you are looking ahead two or three moves on the game board very often. And you have to be confident enough in your ability to predict, we all get into trouble predicting. But you have to at least be aware enough of what's happening to be able to say 'what is likely to happen next is ABC', and that is obviously something valuable."
Regarding what Punchbowl News can offer, Palmer talked about how many new outlets were created around new administrations and, in a way, reflected this context. "If you look at POLITICO, [it] started at the beginning of the Obama administration, it was solving for a new presidency, a new kind of demand in terms of speed in content. You look at Axios, that was started at the start of the Donald Trump era, this was the new kind of politics-as-entertainment era," she said.
With Punchbowl News, that is being launched at the start of Joe Biden administration, the "business of legislating" will become important again, Palmer argued. "We are having a return here, where, after four plus years of kind of not really legislating, not having business in order, or Congress, frankilly, matter. All of a sudden, the people, the four corners in leadership, and their relationships with each other, their relationships with the White House, their relationships with industry, that is actually going to be the most interesting story of the Biden administration."
Both founders also talked about Punchbowl News' business model, that is based on a mix between free and paid content and advertising – that already attracted big companies like Amazon, Facebook and Walmart.
Palmer and Sherman argued that they give a lot of importance to readers' feedback and try to create a conversation and a community around content. Premium members, who pay a $300 annual subscription, get access to exclusive zoom meetings and, soon, small in-person events, as well as other benefits. "[We are] really thinking of ourselves as a convening power that I think is missing in Washington right now," Palmer said. "Our readers are our sources, sometimes they are our sponsors," she added.
Considering that business model, Sherman defended the possibility of doing a public service even if your content is not free. "Just because something is behind a paywall does not mean that it doesn't influence public debate, it doesn't mean that it doesn't provide a public service, it doesn't mean that it doesn't inform the larger political debate," he said.
Asked if they thought that the fact that their readers were often their sources or even advertisers posed a risk to the outlet's independence, because it could get "too cozy" with sources and sponsors, the founders answered that it didn't.
Palmer stressed that this is not a new criticism and the quality, fairness and accuracy of their reporting comes first, because they would otherwise lose their readers. "So I feel comfortable in that sense. […] I think you can be a really great journalistic enterprise and also be a for-profit company. Just because they are both true doesn't mean that the journalism suffers." They also highlighted that the sponsors do not interfere with the editorial line.
Sherman said he never hesitated about "taking the head off" of a source with whom he had a close working relationship. "The weakness in part of this criticism is that it assumes that sources don't understand that you are inevitably going to whack them," he answered.
Watch the entire panel by going to the ISOJ YouTube channel, which has all conference sessions in English, with Spanish interpretation available.