OhmyNews editor says "Every Citizen is a Reporter"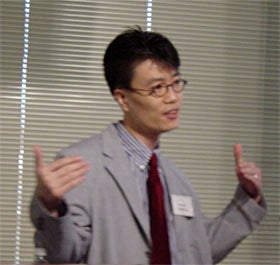 While the New York Times Online edition is just a "pipe for news delivery," OhmyNews (English version here) is "a playground for readers," said Jean Min, a deputy chief of the international division of the country's liberal online newspaper, OhmyNews, at the 6th International Symposium on Online Journalism.
"The attitude of the New York Times Digital is we produce the news and you should consume," says Min. "But OhmyNews produces and consumes news with readers."
Citizen participatory journalism is exploding in South Korea in a chaotic but at the same time well organized way. OhmyNews started with 727 "citizen-reporters," but now has more than 37,000 citizens submitting their stories.
"Mr. Oh, the founder of OhmyNews says that journalists are not exotic species, they are everyone," Min says. "That is the philosophy of OhmyNews."
OhmyNews was born at 2:22 p.m. on the 22nd of December of the year of 2000. It was the plan of the founder of the Web site, Yeonho Oh, who wanted to start this experimentation in a new century.
Oh's experimentation started by asking citizens to be themselves, which would lead to a variety of articles and has proved quite successful so far. On a given day, OhmyNews receives 150 to 200 stories submitted by citizen-reporters, which is over 70 percent of the news content for OhmyNews. They are from various fields including small business owners and teachers, and their topics vary from essay-style musings about daily lives, film and book reviews to columns on various political and social events.
The most fascinating part is that unlike old journalism, they allow readers to talk to each other, collect and share information and even connect to the newsmakers and new sources.
Why they write for OhmyNews? Min said it is not for money, adding that a story on the main page only gets the reader about $20. "First of all, it is eyeballs," Min said. "Thousands of readers are guaranteed for their stories. The current record shows 100,000 views in some cases. Secondly, it is instant feedback from readers. There has been an occasion where about 3,500 readers commented on a single story. Thirdly, it is sense of empowerment."
This doesn't mean that every story can be posted on the newspaper. A strict system is in place to guarantee credibility, Min said. "We do a background check and every citizen-reporter should use their real names", Min said. "They also have to pass through a fact-checking process. A sensitive story attracts more thorough fact-checking process and it could even take a whole month."
OhmyNews' 48 staff reporters go through the screening process for their hard news or analyses. That is also one of the differences from blogging, he said. Another is the instant fame.
"After your story got published, you can call, saying 'Honey, I am on OhmyNews'."
Starting last year, they introduced a new system to encourage people to give tips. They pay people for excellent writing through mobile phone cards.
"Citizen-reporters who submit excellent writings, please take my money," Min said.
Correction: OhmyNews was born at 2:22 p.m. on the 22nd of February of the year of 2000. It was the plan of the founder of the Web site, Yeonho Oh, who wanted to start this experimentation in a new millennium.
ISOJ 2005: Participatory Journalism in Action, from Knight Center on Vimeo.