Photogrammetry, VR and AR are adding new dimensions to storytelling where readers have the opportunity to act upon their curiosity
Virtual reality and augmented reality simulators have grown in popularity, complexity and quality in recent years. But, what is the first image you imagine when you think of VR? Could it be a game where you play the first-person shooter? Robert Hernandez argues that the future of VR and AR will continue to be graphic and streamlined into these violent experiences if we don't diversify our creators. ISOJ attendees heard from a variety of storytellers who are finding new ways to invite readers to act upon their curiosity at ISOJ 2021.
Five technologists and web journalists joined the 22nd International Symposium on Online Journalism (ISOJ) to discuss the changing ways in which readers experience storytelling. This panel provided insights to the processes of creating these virtual worlds and how technology is changing the way we consume journalism. You can watch the full panel in English and in Spanish on YouTube.
Thomas Flynn
of Sketchfab works mostly with cultural heritage organizations, helping them create 3D images of their artifacts. He tells us about the ways we as users can use the Sketchfab platform, which has a community of about five million creators.
While Sketchfab has a user base, Flynn notes that programming like this is still quite unreachable for large areas of the world. "While digital creativity and publishing are perhaps more widespread than ever, these practices still exist within established industry and internet ecosystems so work needs to be done to make space for underrepresented voices to be heard and stories to be told."
Mint Boonyapanachoti is a creative technologist for The New York Times, where she is a part of a team that explores how emerging technologies can be applied in service of journalism. "What if we could break out of this 2D rectangular representation and let readers experience a place the same way the journalist did?," she asked. They are doing this through the process of photogrammetry.
The New York Times has begun publishing photogrammetry walk-throughs of the spaces its journalists are reporting on through an experience that lets you scroll through the space from your device, and it will stop you at interesting or important places in the environment to tell you more about them.
Photogrammetry is being used to transform the typical news story by large organizations like The New York Times, but is also accessible and is being used by individuals like Ben Kreimer, an independent journalism technologist.
Kreimer was first introduced to photogrammetry in 2014 whiel working with a team of archeologists in Turkey. There, he "reinvented a pile of junk" and transformed the process of taking drone footage for land surveys into a photogrammetry map. "The quality I was able to get from this drone that I had hacked together at the time was really remarkable; instantly because of my background in journalism I thought 'if archeologists are doing this, why are journalists not doing this?"
Elite Truong, director of strategic initiatives from The Washington Post, leads a team called the Lede Lab that works to expand the definition of immersive journalism for The Post. "I think accessible immersive journalism is bringing a story to you and telling it in a multitude of different ways," she said.
Her team recently took 250 videos on the ground from social media of the recent protests across the Twin Cities and compiled them together to really paint a picture of what the protests looked like in the first seven or eight days. To do this, they created a timeline format to walk the viewer through the many events that happened, and give an almost first-person view of the protests.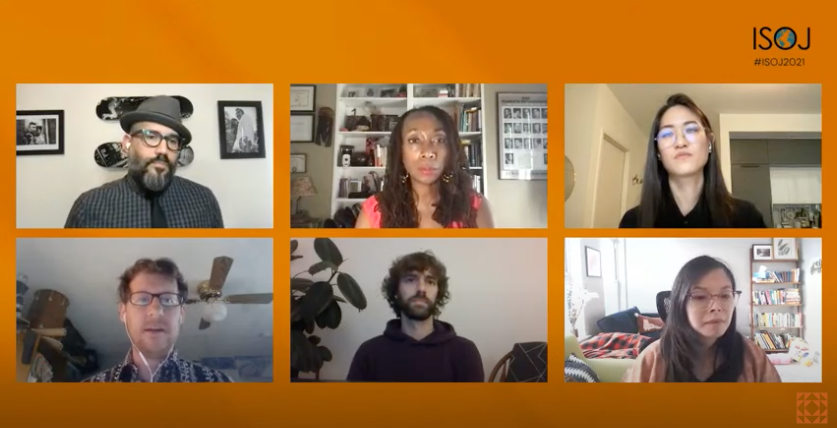 Retha Hill joined the panel to discuss augmented reality. She is a professor of practice and director of the New Media Innovation and Entrepreneurship Lab at Arizona State University. She created her first AR app on Black History in 2010; she used the same technology that brought Robert Downey Jr. alive on the cover of Esquire Magazine. From this experience she said, "The lesson that stayed with me is the difficulty in getting AR into the mainstream." This was a challenge then just as it is now.
"We want to create these flashy things, but the pipeline is just not there," Hill said. "However, journalists should be at the forefront of providing that content."
Watch the entire panel by going to the ISOJ YouTube channel, which has all conference sessions in English, with Spanish interpretation available.