REPORTR.NET: Patch president outlines community strategy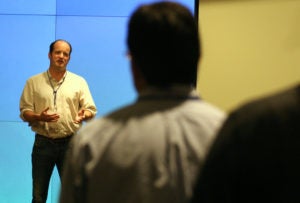 The afternoon keynote at the ISOJ was by Warren Webster, president of Patch Media.
Depending on who you listen to, Patch is or isn't journalism. But it is hiring journalists and has a presence in 800 US towns. It has 50% penetration in these markets and is growing in monthly visits by more than 40%.
The percentage of traffic from AOL is fairly small compared to other traffic, said Webster. Rather people are finding Patch sites through Facebook.
The Patch president likened Facebook to having a newspaper box on the street corner.
Talking about the future of journalism, Webster compared it to being in the head car of a fast speeding train, but not knowing where it's heading.
He located Patch within what people are interested in, arguing that people are interested in what is within 10 miles or 10,000 miles, rather in within 100 miles.
"Patch wants to sit squarely in that 10 mile space," said Webster.
He argued that Patch is journalism. "We were the largest hirer of journalists in 2010. And that is something I am really proud of," he said.
In terms of salary, Webster said it pays local editors more or the same that they would earn at a local weekly, with benefits.
He talked about the sites as platforms for neighborhoods, bringing together disparate and disorganized local information together.
The Patch sites aim to bring together local and regional news, a local journalist, local events, local deals free business listings and community engagement.
Webster said that part of Patch's appeal as a community platform is that it can be personal and local, citing a story about a lost dog who was later found by its owner.
Patch worked to weave itself into the local community, for example, by having its staff volunteer for five days a year.
Webster said Patch is keen to work with journalism schools and has a program called Patch University to foster connections.
ISOJ 2011: Warren Webster Keynote, from Knight Center on Vimeo.