REPORTR.NET: Research into the sharing of links on Facebook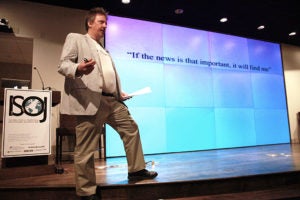 With social recommendation becoming an increasingly important way that people get the news, the final research paper at ISOJ looked at how news travels on social networks.
The research paper by Brian Baresch, Dustin Harp, Lewis Knight and Carolyn Yaschur from the University of Texas at Austin surveyed 78 US Facebook users and the links they shared. (Paper, PDF).
The team suggested we are moving from an ink economy to a link economy.
In a rapid overview of the exploratory research, Baresch said they found people were posting more links about entertainment than any other topic and women posted more links than men.
More of the links were to text articles, followed by videos, especially music videos. Most links didn't get many comments, and women tended to get more comments than men.
The researchers suggested that frequent linkers on Facebook have distinctive genre, topic and source patterns particular to their interests.
They hope the findings will help us better understand how news finds its way through online social networks via what they describe in the paper as "active surveillance and discussion leaders and their re-purposing of content".
ISOJ 2011: Brian Baresch presents research, from Knight Center on Vimeo.