Symposium veteran moderates Twitter panel to close out first day of ISOJ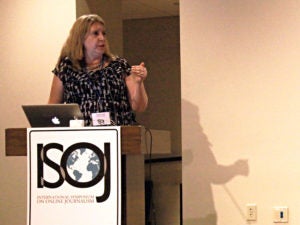 Cindy Royal, who first attended ISOJ the year before she started UT's doctoral program in 1999 and hasn't missed one since, moderated the final ISOJ panel session Friday.
Royal, who earlier tweeted, "This is event has grown so much in 12 years! @rosental announcing new journal! @ Opening Session #isoj http://gowal.la/p/cUBr #photo," said she keeps up with friends from the symposium on Twitter, which is fitting for the panel she guided (All About the Tweet and More).
"We've all been using Twitter all day long," Royal said. "I think we'll beat the 4,000 record today."
Royal began tweeting early Friday morning and kept her followers updated throughout research panels and presentations. Her use of Twitter to spread news and meet up with other attendees reflected the a slice of the views shared by the panel, which reinforced Twitter as a way to keep others connected and informed.
ISOJ 2011: Cindy Royal, from Knight Center on Vimeo.