Symposium expands to include academic presentations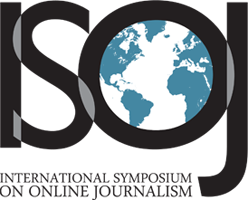 For the first time, the International Symposium on Online Journalism will feature presentations by both journalism professionals and academic researchers.
"This symposium offers journalists and educators the opportunity to collectively explore what we are doing in online journalism and how we can do it better," said Lorraine Branham, director of the University of Texas at Austin School of Journalism, in welcoming participants to the conference.
The symposium is being held Friday and Saturday at the Jesse H. Jones Communication Center at the university.
Friday features discussions on online journalism in Asia, Europe and Latin America; financial independence for online newsrooms, and the evolution of online newspapers.
On Saturday, panelists will discuss research papers on what the academy has been doing to study and understand the new medium.
Rosental Alves, director of the Knight Center for Journalism in the Americas, first hosted the symposium in 1999 to research and explore the Internet, a new medium at the time.
"In the past, the conference ended up with more intelligent questions and not a lot of answers," Alves said in his introductory remarks this morning. "This year we are at a much more mature stage and have lots of answers."